Old Fashioned Sourdough Bread. Plus how to make a sourdough starter that you can use again and again. The flavour of the sourdough bread improves with the age of the starter.
This recipe is by request for a reader who wanted the sourdough bread recipe that I used to make the buns for the Three-Cheese Burgers earlier this week.
I also made a couple of loaves at the same time which were a very tasty toasted addition to some Meatloaf Sandwiches that also made an appearance at my table this week.
This recipe uses a bread starter so plan to make your bread a couple of days in advance.
You can keep your starter in the fridge after that but take it out a couple of days before baking and feed it once or twice a day to reactivate it.
For more tried and true recipes, check out this collection of our 25 Most Popular Recipes since Rock Recipes began back in 2007.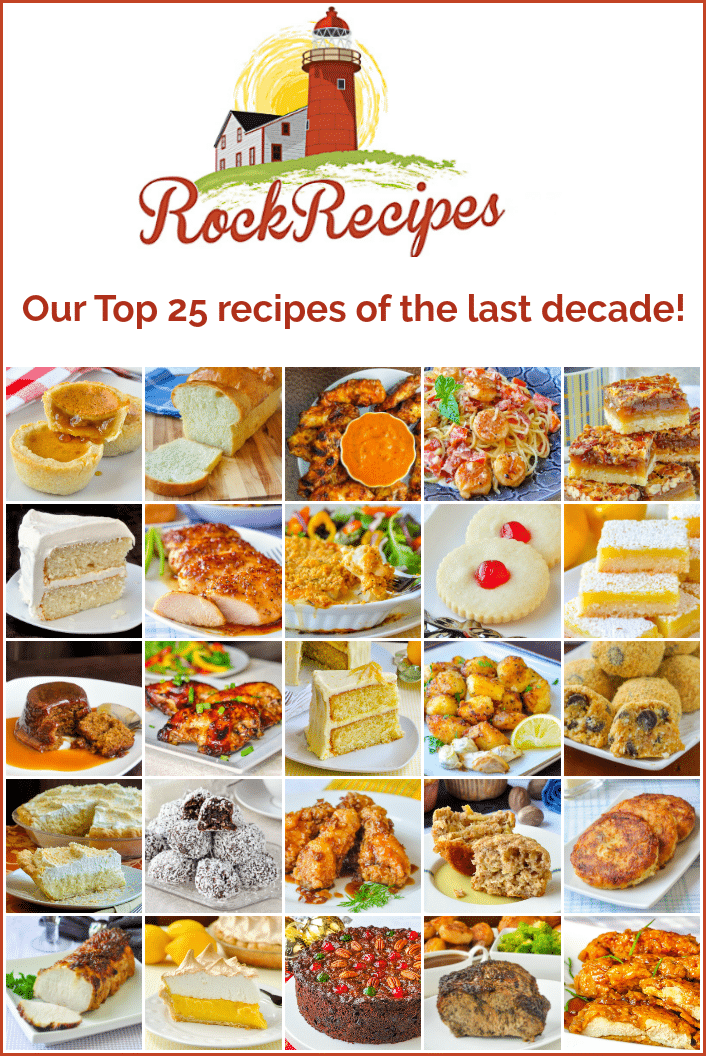 Like this Sourdough Bread recipe?
You'll find dozens of other great recipes like this in our Breakfast & Brunch Category and even more ideas in our Muffins, Tea Buns & Scones Category.
It's easy to keep up with the latest home style cooking & baking ideas from Rock Recipes. Be sure to follow Rock Recipes Facebook Page and follow us on Instagram.
Plus you'll see daily recipe suggestions from decadent desserts to quick delicious weekday meals too.
You can also sign up for our FREE newsletter to know immediately when we add new recipes. You'll also get weekly suggestions for great family friendly meals and desserts too!

Rock Recipes a participant in the Amazon Services LLC Associates Program, an affiliate advertising program designed to provide a means for us to earn fees by linking to Amazon.com and affiliated sites. Our product recommendations are almost exclusively for those we currently use or have used in the past.
Visit my Amazon Store for my favourite kitchen gadgets and appliances, plus recommendations from my personal cookbook collection.
Old Fashioned Sourdough Bread
Old Fashioned Sourdough Bread - plus how to make a sourdough starter that you can use again and again. The flavour of the sourdough bread improves with the age of the starter.
Ingredients
For the Sourdough Starter
3

cups

flour

¼

cup

sugar

2

tsp

salt

3

cups

warm water
For the sourdough bread dough
3 - 3 ½

cups

all purpose flour

4

tbsp

sugar

1

tbsp

salt

1

tsp

instant yeast

1 ½

cups

sourdough starter

½

cup

warm milk

3

tbsp

olive oil
Instructions
Prepare the sourdough starter 2-3 days ahead.
Whisk together the flour sugar, salt and warm water.

Leave this mixture uncovered in a non-metallic bowl for 2-3 days on your countertop. It will begin to ferment and bubble. This is normal. A clear liquid may form on the surface of the starter which is not a problem. Any other color of liquid such as pink or red means that your starter has spoiled and it should be discarded! Every time you use your starter you must feed it to keep it going. You can store it in the fridge in a covered bowl or large bottle with a hole in the cover. If not used for a week you can throw out half the starter and feed it again making it last an additional week in the fridge. To feed your starter, whisk in 1 ½ cups flour, ¼ cup sugar and 1 ½ cups warm milk or water. A starter that has been fed several times will result in more flavourful sourdough bread.
To prepare the bread dough
Using the yeast is optional in this recipe. If you have an active starter, the dough will rise on its own but will take much longer to do so; from 4-6 hours in some cases. The addition of a little instant yeast speeds up the process while keeping the distinctive sourdough flavour.

Combine 2 cups of the flour along with all the remaining ingredients in a large bowl or in the bowl of a large electric mixer that uses a dough hook.

Using a wooden spoon or the regular paddle of your electric mixer beat for 4-5 minutes until the mixture is smooth with no lumps.

If using an electric mixer, switch to the dough hook at this point and begin to slowly incorporate the remaining flour. If not using an electric mixer keep mixing in the flour gradually until a soft dough forms that leaves the sides of the bowl.

Turn the dough out onto the countertop or bread board to knead. You may need to use a little less or a little more flour, this is not uncommon. Knead the dough for an additional 10 minutes either in the electric mixer or on a bread board or countertop.

Cover dough and leave to rest and rise for one hour.

Punch the dough down and knead it for a few minutes by hand before letting it rest for another 10 minutes.

Divide the dough into 2 equal portions, forming each division into a ball. Place the 2 balls of dough on a greased baking sheet or on a wooden peel generously covered in cornmeal if you are planning on baking the bread on a heated stone. Cover with a clean tea towel and allow the dough to rise until it is about triple in size, about 2 hours depending on room temperature, longer if just using the starter and no yeast.

Bake at 375 degrees F for about 30 minutes for the baking sheet method. If baking on a stone, preheat oven to 400 degrees and allow the stone to heat up for at least a half hour before baking. Shake the raised loaf onto the heated stone from the wooden peel and bake for about 25 minutes or until the loaf is evenly golden brown and sounds hollow when tapped.

When baked, turn loaves out onto a wire rack to cool.
Recipe Notes
The time noted does not include an additional 3 hours or so rising time for the bread itself or the 2-3 days it takes to make a proper sourdough bread starter.
Some people will prefer a starter that's older, but just follow the instructions for feeding the starter 2 or 3 times for a deeper flavoured bread.