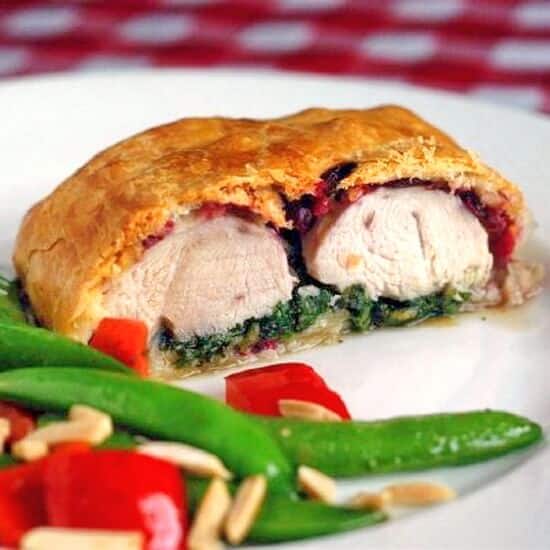 Turkey Cranberry and Spinach Wellington
Turkey Cranberry and Spinach Wellington
A holiday Turkey alternative, especially for just a few people or an easy but impressive dish to prepare in advance for a dinner party.
Prep time: 30 minutes
Cook time: 40-50 minutes
Total time: about 1 hour 15 minutes
Yield: 4 servings
Ingredients
1 sheet, (12 x 12 inches)

frozen puff pastry, thawed

1 1/2 to 2 pounds

uncooked turkey breast

4 cups

spinach

1 tbsp

olive oil

2 cloves

minced garlic

2 tbsp

dry summer savoury (or 1 tbsp dry sage)

salt and pepper

to season

1/2 cup

fresh or frozen cranberries

1 egg + 2 tbsp

+ 2 tbsp water (beaten together for an egg wash)
Cooking Directions
Begin by sautéing the garlic in the olive oil and butter for a minute or two. Add the spinach and stir fry just until the spinach is completely wilted. This will only take a minute or two.
Press the excess water from the spinach by pressing it in a sieve or some cheesecloth.
Place this pastry sheet on a parchment lined cookie sheet. Place the cranberries along the center line of the pastry sheet. Brush the edges of the pastry with the egg wash. Place the turkey on top of the cranberries and the spinach over the turkey. Sprinkle the spinach with the dry savoury.
Bring the edges of the dough together and pinch to seal. Do the same for the ends of the dough to seal as well. Roll the entire thing over so that the seam is on the bottom.
Brush the egg wash over the entire surface of the pastry. Cut 3 to 4 one inch slots in the top of the pastry to let steam escape.
Bake at 375 degrees F for about 40-50 minutes until the pastry is evenly golden brown all over. Use a meat thermometer to make sure that the center has reached at least 170 degrees F to be sure the turkey is completely cooked. Let rest for 10 minutes before cutting into individual servings.