Print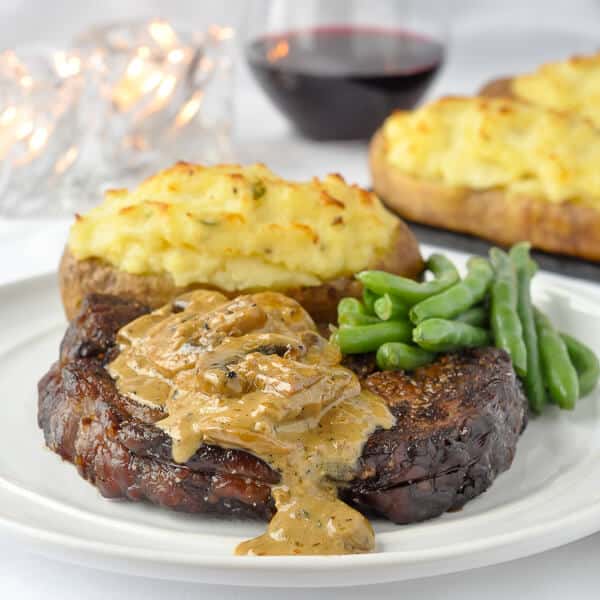 Bourbon Mushroom Sauce on Grilled Rib Eye Steak
Bourbon Mushroom Sauce on Grilled Rib Eye Steak - a richly flavoured sauce to compliment the flavour of a top quality prime beef steak.
2

rib eye steaks about 1 1/2 thick

Strip Loin or Tenderloin can also be used

salt and pepper to season
For the Bourbon Mushroom Sauce
2

tbsp

butter

1

large shallot minced

1

clove

garlic minced

salt and pepper to season

1 1/2

cups

sliced cremini mushrooms

or other mushroom of your choice

2

ounces

Bourbon

1/2

cup

beef stock

pinch nutmeg

1/4

cup

whipping cream

1/2

tsp

chopped fresh thyme

or 1/4 tsp dried thyme

1

tbsp

additional butter

cold
Allow your steaks to come to almost room temperature before grilling. Leave them covered in plastic wrap as they come up to temperature.

Season with salt and pepper and cook on the preheated grill until your desired internal preference is reached. I found about 3 1/2 to 4 minutes per side is good for medium rare.

Turn the steaks only once during the cooking time.

Remove from the grill and let the steaks rest for 10 minutes on a plate. Loosely tent the steaks with aluminum foil, leaving a couple of openings for steam to escape.

Serve with the Sauce spooned over the top .
To prepare the sauce
When the steaks hit the grill start the sauce by sautéing the mushrooms over medium heat in the butter until they shrink and just being to turn a little brown at the edges. Season with salt and pepper.

Add the shallots and garlic and sauté for another minute or so until they soften.

Add the bourbon and let that cook off for only a minute.

Add the beef stock and nutmeg and allow the sauce to reduce by almost half for the next few minutes.

Add the whipping cream and thyme and cook for only a minute or two more until the sauce is the right consistency. It should not be too thick but should coat the back of a metal spoon. If you reduce the sauce too much, just thin it wit a little extra splash of beef stock.

Just before serving, remove the sauce from the heat and stir in an additional butter. This gives the sauce good body and while when serving.