Print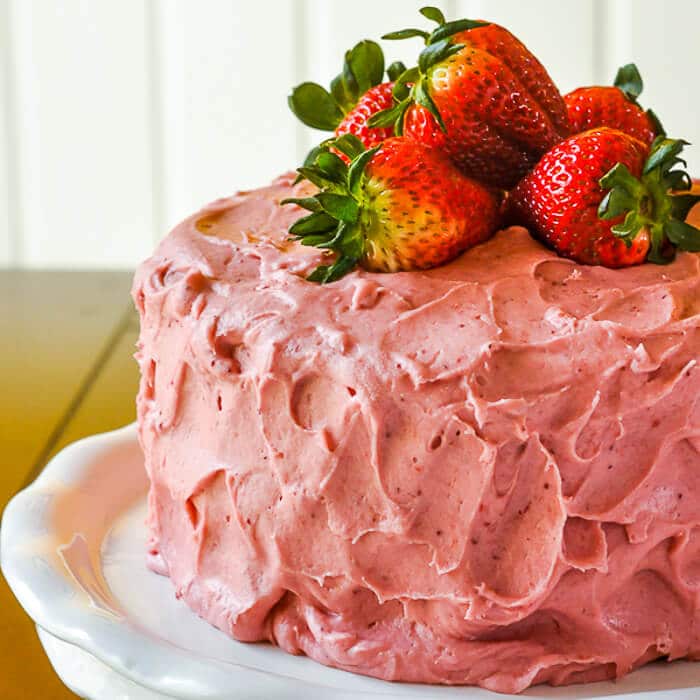 Strawberry Cake - no artificial colour or flavour added!
Strawberry Cake - there is no artificial colouring or flavouring used to get the beautiful pink hues in this delicious, made from scratch, strawberry cake.
Total Time
1
hour
10
minutes
For the strawberry jam puree
For the cake batter
3/4

cup

butter

1 1/4

cups

sugar

1 1/2

tsp

vanilla extract

3

eggs

1 3/4

cups

all purpose flour

1

cup

cake flour

1 1/2

tsp

baking powder

1/2

tsp

baking soda

1 1/4

cups

whipping cream

3/4

cup

strawberry jam puree
For the Strawberry Frosting
6

cups

icing sugar

powdered sugar

1

cup

room temperature butter

1

tsp

vanilla extract

1/2

cup

strawberry jam puree

a little milk

if necessary
To prepare the strawberry jam puree
You will need to prepare this puree in advance so that it has time to cool before being added to the cake batter.

In a small saucepan combine the strawberries and sugar and bring them to a gentle simmer.

Continue to simmer stirring occasionally for a half hour or so until the volume of the berries has reduced by at least half.

Allow the berries to cool before pureeing with an immersion blender or with a few pulses in a standard counter top blender. You will need a total of 1 1/4 cups of this puree for to make both the cake and the frosting. Any excess can be stored in a covered container and used as jam for your morning toast.
To prepare the cake batter.
Grease and flour two 8 or 9 inch cake pans. Line the bottoms with circles of parchment paper for easy release later. (You can also bake this cake in a large bundt pan which has been generously greased and then floured. The bundt pan may take extra time, just let the toothpick test be your guide.)

Cream together the butter, sugar and vanilla extract until light and fluffy.

Add the eggs, one at a time, beating well after each addition.

Sift together the all purpose flour, the cake flour, the baking powder and baking soda.

Mix the strawberry puree with the whipping cream.

Add the flour mixture to the creamed butter mixture alternately with the cream and strawberry puree mixture. folding well after each addition.

Always begin and end with the dry ingredients. As a general rule add the dry ingredients in 3 equal portions and the liquid ingredients in 2 equal portions.

Bake at 325 degrees F for 40-45 minutes or until wooden toothpick comes out clean.

Let the cakes rest in the pans for 5-10 minutes before turning them out onto a wire rack to cool completely.
To prepare the frosting
Cream together the butter with half of the icing sugar, then add the strawberry puree a couple of tablespoons at a time, alternately with some of the remaining icing sugar. Beat until smooth and spreadable.

The moisture content in the strawberry puree will probably vary from batch to batch so you may need a little more icing sugar if the frosting is too soft or add a tablespoon or two of milk if it is too thick. You want a nice soft, spreadable consistency.

Frost the cake with the finished icing and garnish with fresh strawberries.
Prep time does not include the additional time for the jam puree to cool.
If you want to bake this in a bundt pan follow the instructions given. If you want to poor a chocolate ganache glaze over the cake, just heat 1/4 cup of whipping cream in the microwave for a few seconds to get it slightly warm then add it to 1 cup of dark chocolate chips in a double boiler until the chocolate is smooth.