Print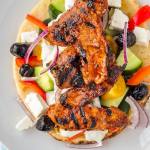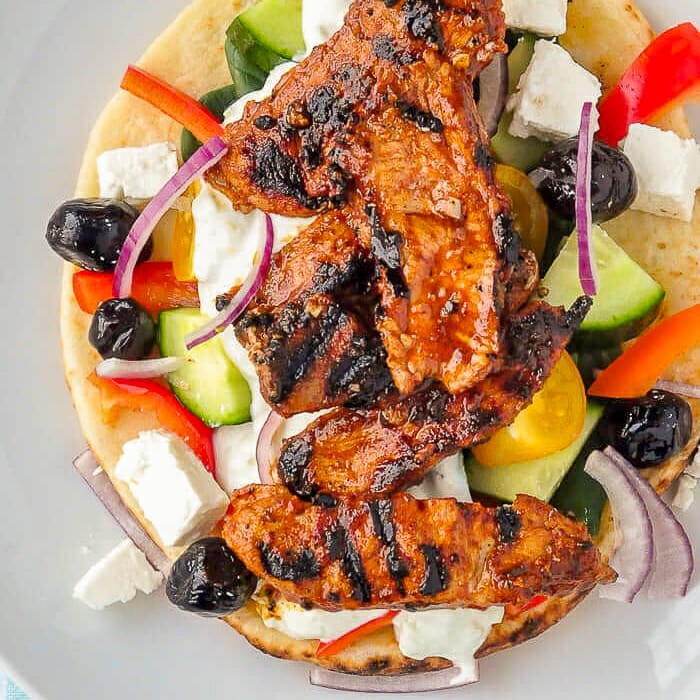 Pork Souvlaki with Lemon Oregano Tzatziki
Pork Souvlaki with Lemon Oregano Tzatziki - with the pork strips cooking in only about 2 minutes, this is a delicious super-fast way to enjoy a souvlaki dinner at any time of the year.
Marinating time
20
minutes
2-3

lbs

pork sirloin or tenderloin

cut into 1/4 inch thick strips
For the Souvlaki Marinade
For the Lemon Oregano Tzatziki
3

cups

Greek yogurt

drained.

6

inch

piece of English cucumber

1

tsp

dried oregano leaves

2

cloves

minced garlic

3

tbsp

fresh lemon juice

zest of half a lemon

finely minced (optional)

2

tbsp

olive oil

pinch salt and pepper to season
I like to cut the pork to about a quarter inch thickness to provide as much surface space as possible to accept the marinade and increase the flavour. I then cut the thin marinated pork into about 1 x 3 inch pieces.
To prepare the Souvlaki Marinade
Mix all of the ingredients together and pour over the pork in a Ziploc bag or in a shallow glass dish. Toss the pork around well in the marinade to coat on all sides.

Marinate in the fridge for 20 minutes to an hour.

Cook on a preheated, lightly oiled grill pan at high heat for about only a minute or so per side.

Serve with a Greek Salad, flatbread and tzatziki.
To prepare the Lemon Oregano Tzatziki
Draining the yogurt removes much of the liquid and produces an end product about the consistency of thick sour cream. To drain the yogurt, line a colander with several layers of cheesecloth (or in a pinch, several large coffee filters) Pour the yogurt into the colander and place it in a large bowl or in the sink for an hour or two. this should produce about 2 cups of thick yogurt.

Peel the piece of cucumber and remove the seeds and pulp at the center with a teaspoon, then dice the outside flesh of the cucumber into small cubes of ⅛ inch or less.

Sprinkle 1 teaspoon of kosher salt over the diced cucumber and toss together well. Let this rest for about a half hour, stirring occasionally. This process removes some of the liquid from the cucumber so that it will not water down the consistency of your finished tzatziki.

Drain all of the liquid off the diced cucumber before adding it to the drained yogurt along with the dried oregano, garlic, lemon juice, zest, olive oil, salt and pepper.

Mix well, cover and store in the fridge for at least a half hour before serving. I often make the tzatziki a day ahead to let the flavours develop.