Print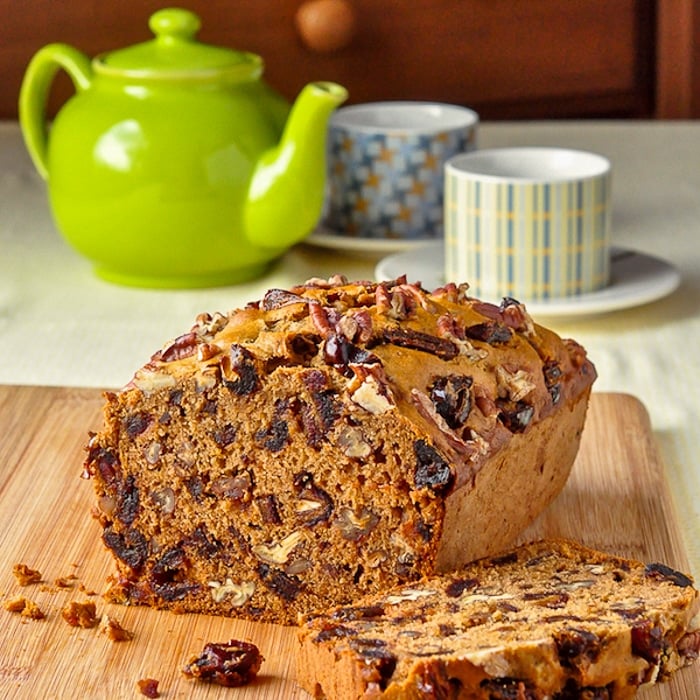 Date Nut Bread - an old fashioned favourite
Date Nut Bread - this old fashioned favourite is just like your grandmother would make. It's easy, tender, moist and delicious, and even better the next day.
Total Time
1
hour
30
minutes
Servings
1
large loaf cake or 2 smaller laves
1

cup

strong tea or brewed coffee. Orange Pekoe

green tea, or Earl Grey will all work well. (Use whichever you like)

2

cups

chopped dates

1/3

cup

melted butter

pinch salt

1/2

tsp

baking soda

1/2

cup

firmly packed brown sugar

1 1/2

tsp

vanilla extract

2

cups

flour

1

tsp

baking powder

1/2

tsp

ground nutmeg

2

beaten eggs

1

cup

toasted pecans ( I toast mine on a cookie sheet in a preheated 350 degree F oven for 5-7 minutes

tossing at least once during that time.), or walnuts if you prefer
Do not chop your dates too small or they will break up in the batter. I like to cut each dried date into only 4 or 5 pieces so that you can see actual pieces of date in the loaf when you cut it.

Pour the hot tea or coffee over the chopped dates along with the melted butter, salt, baking soda and brown sugar. Stir gently with a rubber spatula to help dissolve the brown sugar.

Set aside to cool for 20 minutes.

After the date mixture has cooled stir in the vanilla extract.

Sift together the flour, baking powder, and nutmeg and add to the date mixture along with the 2 beaten eggs.

Fold the batter together by hand using a rubber spatula. When the flour is almost all incorporated, add the toasted pecans during the last few folds of the batter.

Preheat oven to 350 degrees F (325 degrees F for glass bakeware). Grease a large 9x5 loaf pan and line it with parchment paper.

Spoon the batter into the loaf pan. You can top the loaf with a few untoasted pecans and additional pieces of chopped date if you like.

Bake for about one hour until a wooden toothpick inserted into the middle of the loaf comes out clean. Baking times may very by oven and the type of pans used, so check it 5 to 10 minutes early and allow extra time if needed. Let the toothpick test be the best judge of when it is done.

Remove from oven and let rest in the pan for 10 minutes before removing the loaf from the pan and letting it cool completely on a wire rack.
I have also baked this large loaf cake in 2 small disposable aluminum loaf pans which worked quite well. The baking time is considerably less; probably between 30-40 minutes but once again, let the toothpick test be the best judge of when the loaf is fully baked.