Print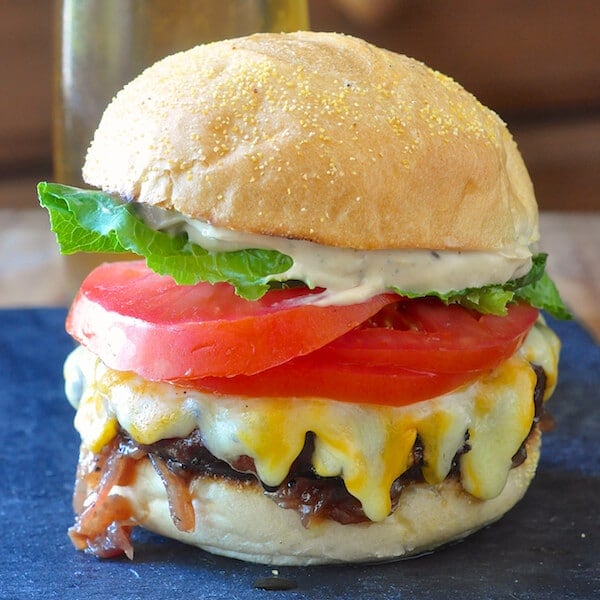 Bacon Burger with Red Onion Jam and Roasted Garlic Mayo
Bacon Burger with Red Onion Jam and Roasted Garlic Herb Mayo - crispy bacon is incorporated into the ground beef before grilling, then accompanied with two equally delicious homemade condiments in what may be the most flavorful burger we've ever made.
For the Roasted Garlic Mayo
1/2

cup

mayonnaise

1

tsp

Worcestershire sauce

1/2

cloves

small head of roasted garlic

about 6

1

tbsp

chopped fresh herbs (use any you like

I used a little rosemary, chives and oregano because that is what I had on hand.)

pinch salt and pepper
To prepare the burger patties
Cut the bacon slices into a fine dice and cook until most of the pfat has been rendered out and the bacon begins to crisp.

Drain off the fat and cool the cooked bacon bits to room temperature.

When cool, mix the bacon bits with the ground beef and form into 4 patties about 4 1/2 inches wide.

You can leave the patties in the fridge overnight if you like but it's good to make them at least a couple of hours beforehand, to let the flavor of the bacon permeate the meat.
To prepare the Roasted Garlic and Herb Mayo
Simply pulse all of the ingredients together in a blender until the roasted garlic has been fully incorporated and the mayo is smooth.
To make the burgers
Grill the burger patties until fully cooked, about 3-4 minutes per side. Add the sliced cheese when you flip the burgers so that it has time to melt.

Add the red onion jam to the bottom half of the bun before adding the burger pattie. Top with lettuce and tomato. Spread the mayo on the top bun and serve.