Print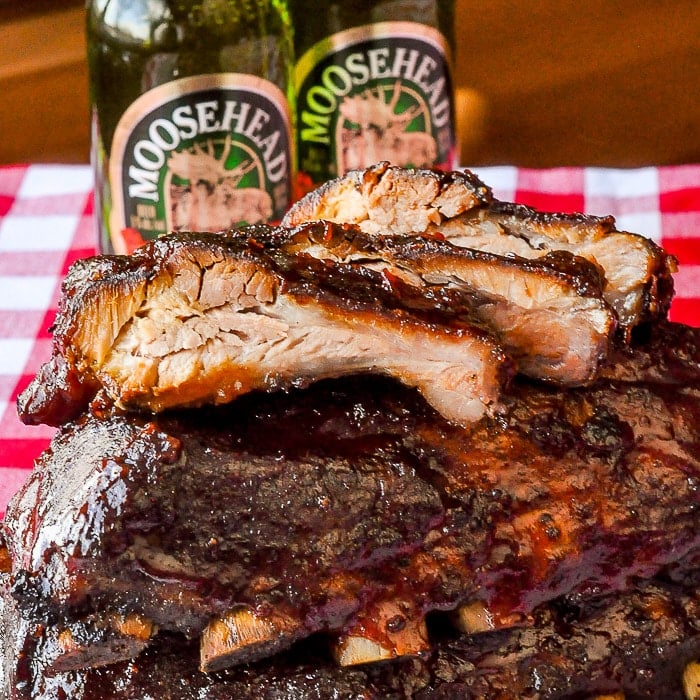 Slow Cooker Barbecue Ribs
Slow Cooker Barbecue Ribs - a year round way to enjoy meaty, tender, finger licking, fall-off-the-bone ribs with the easiest preparation method ever.
Total Time
6
hours
10
minutes
Servings
4
or more servings
For the BBQ dry rub
3

tbsp

paprika

2

tbsp

smoked paprika

2

tbsp

chili powder

3

tbsp

kosher salt

1

tbsp

powdered ginger

1

tbsp

chipotle powder

6

tbsp

brown sugar

1

tbsp

black pepper

1

tbsp

ground nutmeg

1

tbsp

ground oregano

1

tbsp

ground thyme

1

tbsp

ground coriander

2

tbsp

dry mustard powder

2

tbsp

garlic powder

3

tbsp

onion powder

1

tsp

ground cumin

1

tsp

cinnamon
For the Molasses Honey BBQ Sauce
To prepare the dry rub
Mix together well and store any unused dry rub in an airtight container in a cool place.

I like to mix it together by pulsing it together in the food processor. This ensures it is very well blended and also breaks up any lumps in the brown sugar. It also makes it a finer consistency, which is helpful when using it in a spice shaker.
To prepare the BBQ sauce
Simply add all of the ingredients to a small saucepan and simmer over medium low heat.

Stir the sauce occasionally and simmer for 20-30 minutes or until the sauce thickens to a consistency similar to ketchup.
To prepare the slow cooker ribs
Liberally sprinkle both sides of the ribs with dry rub. You don't want to spare the seasoning. Use plenty.

At this stage you can wrap the ribs in plastic wrap and leave them for up to 24 hours before cooking. This allows the seasoning mix to penetrate flavour into the meat. This not essential, you can choose to start cooking them immediately of you don't have time.

After dry rubbing the ribs, brush both sides liberally with the bbq sauce.

Place the ribs into the slow cooker with their ends sticking up. This will allow them to cook more evenly than stacking the racks of ribs on top of each other.

Cook on low for 6-8 hours depending upon the thickness of the ribs. Baby back ribs will be on the lower end of this scale and ticker back or side ribs will take the longest cooing time.

Remove the ribs from the slow cooker and place them on a rack on a baking sheet.

Turn your broiler on low and broil for just a few minutes on each side before starting to brush on additional BBQ sauce.

Turn and brush the ribs several times while brushing on the barbecue sauce ti get them well coated.

Remove from oven, cut into individual ribs and serve.
To make these a day or two ahead, simply wrap and refrigerate the ribs overnight after they come out of the slow cooker.
About a half hour before serving turn the oven on 350 degrees F. Place the ribs on a rack on a baking sheet and allow them to heat for 15 minutes.
At that point, turn the broiler on low and brush on the BBQ sauce as instructed in the recipe.