Print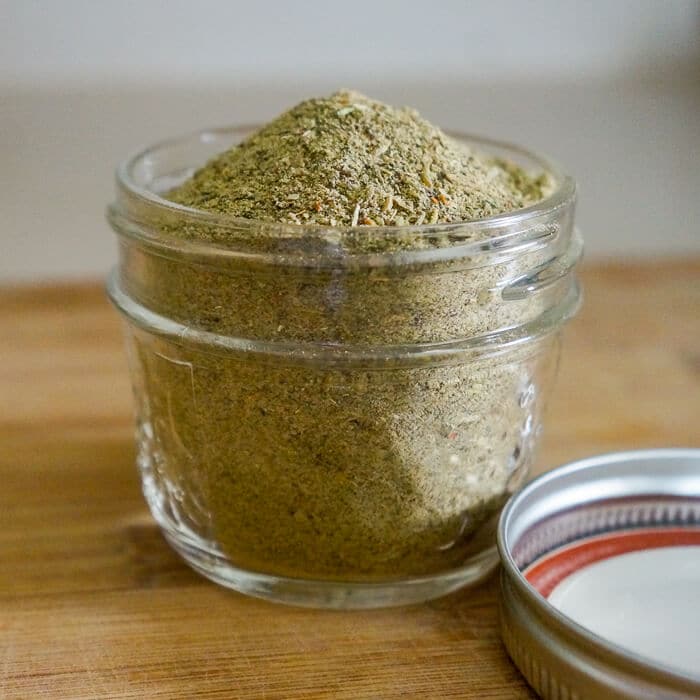 Homemade Italian Seasoning
Homemade Italian Seasoning - a delicious multipurpose blend for salad dressing, roast chicken, veggie dips and so much more.
1

tbsp

crushed fennel seeds

or ground fennel seeds

2

tsp

dried rosemary

1

or 2 tsp crushed chili flakes

optional

2

tsp

dried thyme

1

tbsp

salt

2

small dry Bay leaves or 1 large dry Bay leaf

1

tbsp

brown sugar

3

tbsp

dried basil

2

tbsp

dried oregano

2

tbsp

onion powder

1

tbsp

garlic powder

1

tbsp

ground black pepper
Add the crushed fennel seed, dried rosemary, chili flakes, thyme salt Bay leaves and brown sugar to a food processor or blender. If using ground fennel add it later with the other ingredients.

Pulse a dozen times or so for couple of seconds or so at a time to break down the larger herb pieces until they are fine.

Pulse in the basil, oregano, onion powder, garlic powder and black pepper until very well combined.

Store in an airtight container or mason jar, preferably in a cool dark place.
There is very little salt in this blend of a couple of reasons. If making salad dressing or dip, this is generally enough salt of me to season the dressing. If using for roast chicken or fish, I would want to add a little more salt and pepper to season those before adding a dusting of the Italian Seasoning anyway.
To make the roast chicken as pictured, simply lightly season the chicken pieces with salt and pepper, then generously sprinkle on the Italian Seasoning on all sides. Roast on a parchment paper lined cookie sheet in a preheated 400 degree F oven for about 45 minutes depending upon the size of the chicken pieces. For large chicken pieces, from a 4 pound or larger bird, I'd recommend another 10 minutes or so.