Print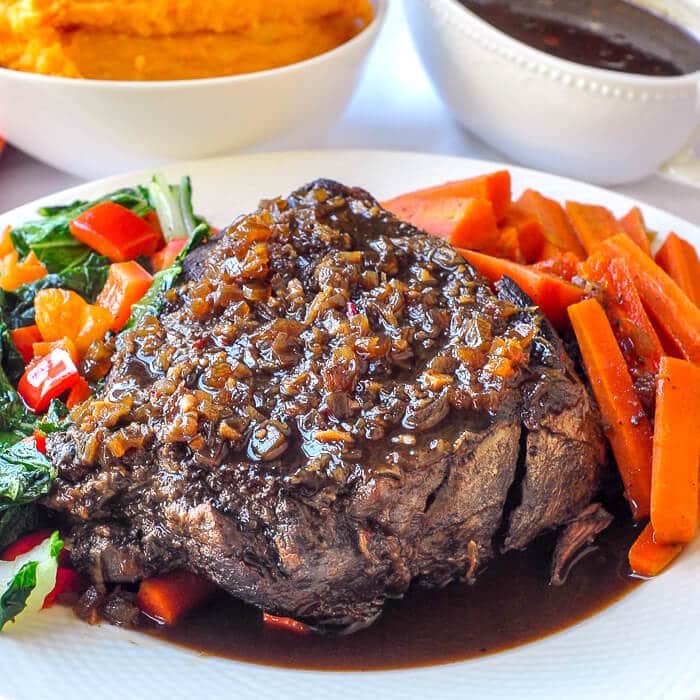 Ginger Braised Beef Roast with Hoisin Jus
This Ginger Braised Beef with Hoisin Jus is an Asian inspired twist on a traditional pot roast. We served it with sweet potato mash and stir fried veggies.
Cook Time
3
hours
30
minutes
4

lbbeef roast

, cross rib or sirloin work well

3

cups

beef stock

1

cuporange juice

1

largeonion

, finely diced

3

clovesminced garlic

1

tsp

five spice powder

1/2

tsp

freshly ground black pepper

1/2

tsp

salt

3

tbsp

freshly grated ginger

1/2

tsp

ground fennel seed

2

tbsp

honey

3

tbsp

soy sauce

1/2

cup

Hoisin sauce

6

carrots

, cut in sticks or coins
Season the roast with salt and pepper and brown on all sides in a cast iron pan with a little canola oil added to the pan. Transfer the roast to a covered roaster or heavy dutch oven.

Add the beef stock, orange juice, onion, garlic, five spice powder, salt, pepper, ginger and honey. Stir to blend the ingredients together.

Cover the roasting pan tightly with aluminum foil before adding the lid. Place in a preheated 350 degree oven for 3 to 4 hours until the meat is tender and almost falling apart.

In the last half hour or so of cooking time add the carrots to the roasting pan.

Remove the meat from the pan, cover with aluminum foil and hold in a 150 degree oven while you prepare the jus.

Pour the beef braising liquid from the roasting pan into a saucepan and skim any excess fat.

Simmer to reduce the volume by about 1/4, then add the soy sauce and Hoisin sauce. Simmer for just a few minutes more and serve with the carved beef roast.

Delicious served with simple steamed rice or sweet potato mash and stir fried Chinese vegetables.