Print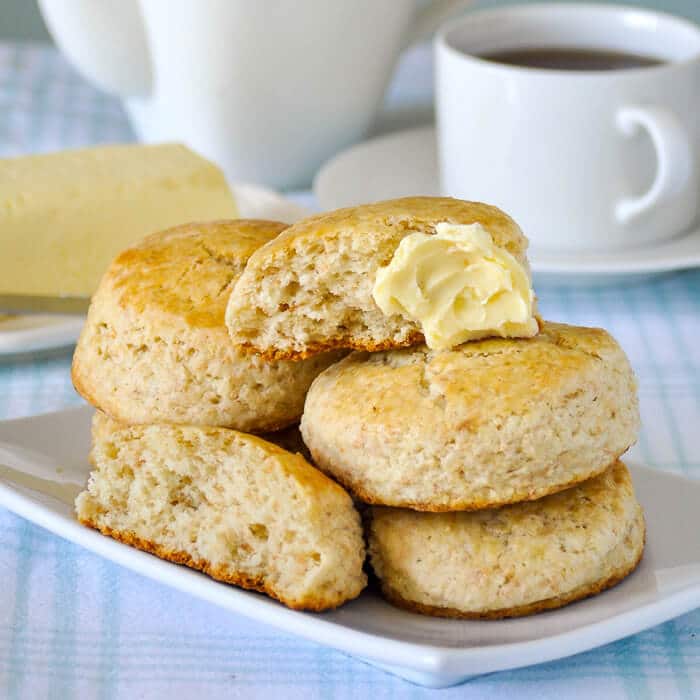 Toasted Coconut Tea Biscuits
Toasted Coconut Tea Biscuits - toasting the coconut takes the flavour of an old family favourite recipe to a whole new level; perfect for afternoon teas and weekend brunches.
3

cups

flour

1 

cup

sugar

3

tsp

baking powder

½

tsp

salt

¾

cup

butter

1

cup

dried unsweetened fine or medium cut dessicated coconut

(toasted, see note)

2

tbsp

lemon juice

½

tsp

vanilla extract

1/2

tsp

coconut extract

(optional)

1

cup

undiluted evaporated milk
I start these in my food processor because it is so fast but they can be made just as easily in a large bowl by cutting the butter in with a pastry blender or just rubbing it into the dry ingredients using your hands like Nan did.

In a food processor, combine the flour, sugar, baking powder and salt.

Pulse in the butter until the mixture resembles a coarse meal with small pieces of butter still visible.

Add the toasted coconut, toss well, and make a well in the center of the mixture.

Mix together the undiluted evaporated milk, lemon juice, coconut extract and vanilla extract.

Pour the liquid mixture into the well and mix only enough to form a dough ball.

Roll on a floured surface to 1 inch thickness and cut out buns with biscuit cutter and place on parchment lined baking sheet or make them like my nan did by baking them close together in a baking pan.

Bake at 375 degrees F for 20-25 minutes or until golden brown. Baking time will vary depending on the size of your biscuit cutter.
The amount of sugar in this recipe is variable if you like. Use 1/2 cup or 3/4 cup for a less sweet version and these will still be quite delicious.
These toasted coconut tea buns were baked, spaced out on a parchment lined baking sheet because I always prefer them with slightly crispy edges even if they are a bit more flat. If you prefer, for a softer texture, you can place them close together in a baking pan. The will be softer in texture and will have to be separated like a batch of dinner rolls when serving, just like my Nan used to bake them. It's completely your choice.
To toast the coconut, preheat oven to 325 degrees F and sprinkle the coconut evenly in the bottom of a 8 or 9 inch baking pan. Bake for about 5 minutes or until lightly golden brown. Give the coconut a toss at least once to make sure that it browns evenly. Watch it closely. Dried coconut does still contain coconut oil and it can burn quickly once it's toasted.