Print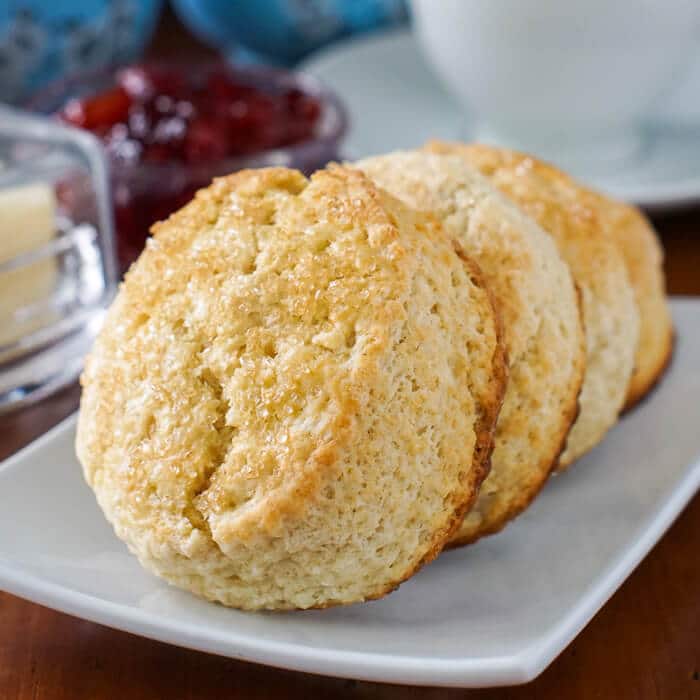 Sweet Biscuits
Sweet Biscuits - make them for a teatime treat or as the start of a simple but special shortcake dessert.
Servings
12
large biscuits
3

cups

flour

1 

cup

sugar

( a little less if you prefer)

4

tsp

baking powder

½

tsp

salt

¾

cup

butter

2

tbsp

lemon juice

1 

tsp

vanilla extract

3/4

cup

milk

(approximately)

1

large egg

egg wash (optional)

( 1 egg + 2 tbsp water , whisked)

4

tbsp

turbinado sugar

(optional)
I start these in my food processor because it is so fast but they can be made just as easily in a large bowl by cutting the butter in with a pastry blender or just rubbing it into the dry ingredients using your hands.

In a food processor, combine the flour, sugar, baking powder and salt.

Cut in the butter until mixture resembles a coarse meal.

Transfer to a large bowl and make a well in the center of the dry mix.

Mix together the lemon juice, vanilla, milk and 1 egg.

Pour into the well and mix only enough to form a dough ball.

Whisk together the egg and water to make an egg wash and lightly brush the tops of the biscuits with it. You will only use a small amount of the egg wash.

Sprinkle turbinado sugar on top of the biscuits.

Bake at 375 degrees F for 20 minutes or until golden brown.