Print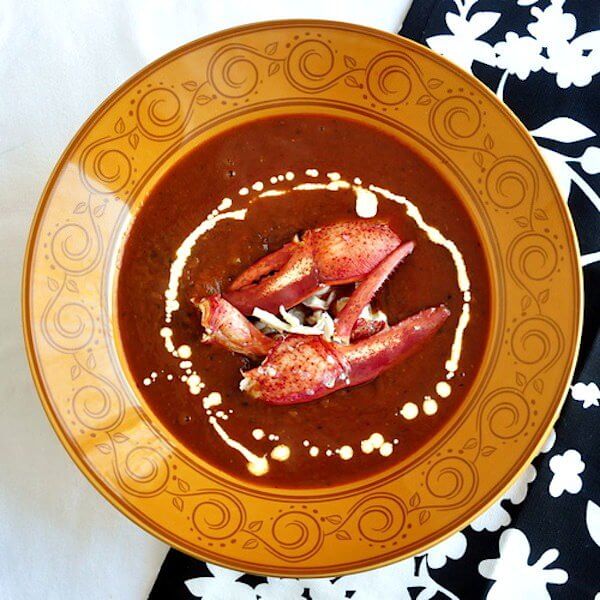 Roasted Tomato Fennel Lobster Bisque
Roasted Tomato Fennel Lobster Bisque - small cups of this soup make a wonderful first course at any dinner party or celebratory meal. It could also be the star of the show if served as the main course at a special lunch.
Cook Time
1
hour
30
minutes
Total Time
2
hours
30
minutes
3

lbs

shelled lobster

steamed
For the Seafood Stock
6

cups

water

1

small chopped onion

3

cloves

roughly chopped garlic

3

tbsp

chopped tarragon or dill

2

stalks celery

1

carrot

6

peppercorns
For the Roasted Tomatoes and Fennel
8

large ripe tomatoes diced

1

large fennel bulb diced

1

medium red onion diced

2

cloves

chopped garlic

4

tbsp

olive oil

2

tbsp

honey3 tbsp balsamic vinegar

Salt and pepper to season

2

tbsp

chopped fresh tarragon

dill is good too
Don't overcook the lobster, a slight under cooking is best at this point as it will be added back to the bisque later. Save 2 cups of the steaming liquid.
To make the Seafood Stock
Shell the lobster over a large bowl to catch any liquid. Separate the meat from the body and claws and chop it into a 1/2 inch dice to add back to the bisque later. Whole shelled claws on top of the soup make a beautiful, impressive presentation.

Simmer the shells and any liquid in the bowl along with the 2 cups of the steaming liquid and the 6 cups water, onion, garlic, tarragon,celery, carrot and peppercorns.

Simmer very gently together for about 30-45 minutes. Strain through several layers of cheesecloth to create a clear broth.
While the stock simmers, get started on the roasted tomatoes and fennel.
Toss together the diced tomatoes, fennel, onion, garlic, olive oil,honey, balsamic vinegar, salt and pepper.

Bake a shallow baking dish at 350 degrees F. Cook for about 60-70 minutes, stirring occasionally or until the fennel pieces are very soft and most of the liquid has cooked off and the tomato and fennel reach a good chunky consistency. Puree this mixture well in a blender or food processor and pour into a soup pot.

Add 6 cups of the seafood stick and the other 2 tbsp chopped tarragon.

Simmer for 20-30 minutes or until the soup reaches your desired consistency.

Taste and do a final seasoning of salt and pepper if necessary.

Add the chopped lobster meat to the soup and simmer for just a couple of minutes before doing a final seasoning of salt and pepper, stirring in a squeeze of lemon and serving with a drizzle of heavy cream.