Print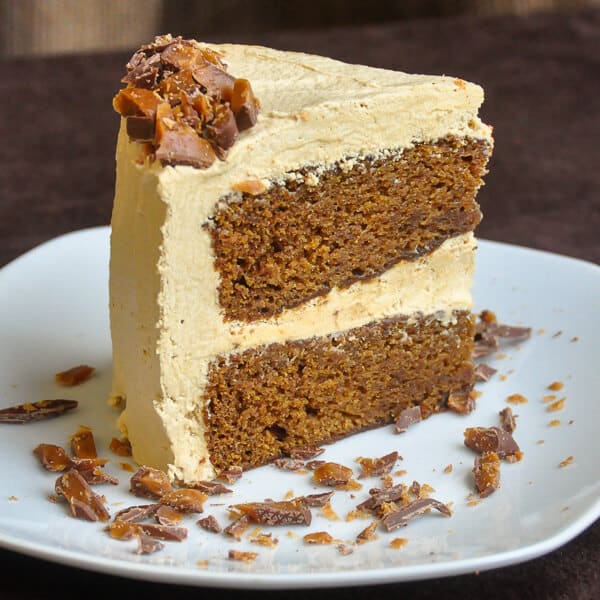 Sticky Toffee Pudding Cake
This Sticky Toffee Cake uses a buttery toffee frosting for one of the richest, most indulgent cakes you will ever sample. A terrific celebration cake.
Total Time
1
hour
25
minutes
Servings
16
- 20 servings
For the cake
Grease and flour two 9 inch cake pans or lightly grease and line with parchment paper for easy release. Preheat oven to 350 degrees F.

Prepare the

recipe for Sticky Toffee Pudding

and divide the batter between the prepared pans.

Bake for 35-40 minutes or until the center springs back when lightly touched.

Cool in the pans for 10 minutes before turning the cakes out onto a wire rack to cool completely.

Frost with the Toffee Buttercream Frosting and garnish with chopped toffee chocolate bars if you like.
To prepare the Toffee Buttercream Frosting
Combine the brown sugar, molasses, golden syrup water in a small saucepan.

Bring to a boil. Continue to boil over medium heat without stirring until the mixture reaches 240 degrees on a candy thermometer.

Meanwhile beat the egg whites, cream of tartar and vanilla extract together to soft peaks.

Slowly pour in the sugar syrup hitting the side of the bowl and not the beaters. Continue beating the frosting for 10-15 minutes until the meringue is completely cool.

When completely cool, slowly begin to add the butter, a few tablespoons at a time.

Beat until smooth after each addition and continue beating until frosting thickens and somewhat resembles the consistency of stiffly whipped cream.