Print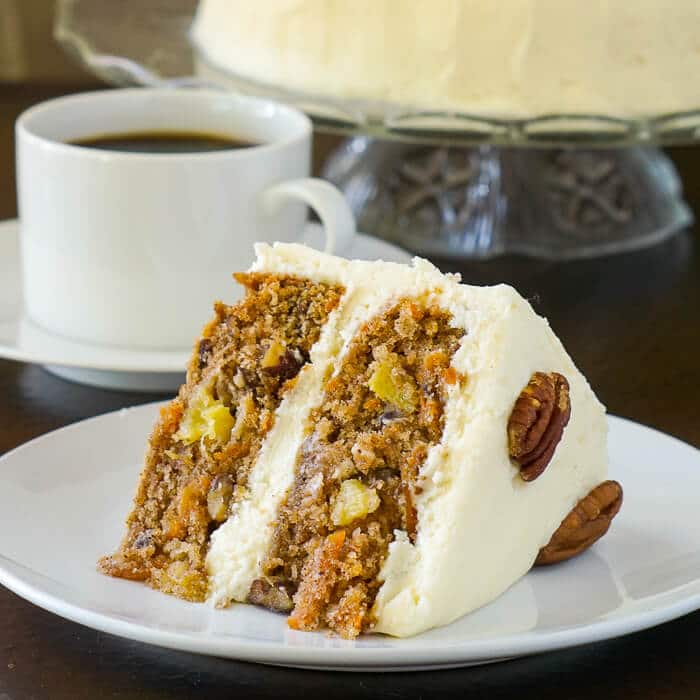 Pineapple Pecan Carrot Cake with Vanilla Buttercream Frosting
My favorite version of carrot cake featuring a moist spice cake base with sweet golden pineapple and crunchy pecans. I love to make an Italian buttercream frosting for this cake instead of the traditional cream cheese frosting.
2

cups

flour

1

teaspoon

baking powder

1/2

teaspoon

baking soda

2

teaspoons

cinnamon

3/4

teaspoon

freshly grated nutmeg

1/2

teaspoon

salt

1 1/2

cups

sugar

1

cup

vegetable oil

3

eggs lightly beaten

2

teaspoons

vanilla extract

1 1/2

cups

grated carrots (see note)

(not finely grated)

1

cup

fresh golden pineapple diced small (see note)

Use canned pineapple tidbits only if fresh is unavailable, roughly chopped and then pressed through a sieve to remove the excess liquid.

1/2

cup

chopped lightly toasted pecans
FOR THE BUTTERCREAM FROSTING
Grease and flour two 8 or 9 inch cake pans.

Sift together flour, baking powder, baking soda, cinnamon, nutmeg and salt.

In a large mixing bowl, beat the sugar, eggs and vanilla and oil until light and fluffy.

Stir in the grated carrots, pineapple and nuts.

Fold in the dry ingredients by hand.

Stir only until the dry ingredients are incorporated into the batter. Do not over mix.

Pour into prepared pans and bake for 30-35 minutes at 350 degrees F or until a wooden toothpick inserted into the center of the cake comes out clean.
TO MAKE THE BUTTERCREAM FROSTING
Combine the sugar and water in a small saucepan and bring to a boil. Continue to

boil over medium heat without stirring until the mixture reaches 240 degrees on

a candy thermometer.

Meanwhile beat the egg whites, cream of tartar and vanilla extract together to stiff peaks with the whisk attachment on your mixer..

Slowly pour in the sugar syrup in a thin stream, hitting the side of the bowl and

not the beaters.

Continue beating the frosting for 10-15 minutes until the

meringue is completely cool.

When completely cool, slowly begin to add a few tablespoons of the butter at a time, beating constantly.

Beat until smooth after each addition. When properly done, the texture of this frosting should resemble whipped cream. If storing in the fridge, you will want to bring the cake out to come up to room temperature before serving.
Be sure not to overmeasure the amount of pineapple and grated carrot in this recipe or your cake could get soggy and/or crumbly. I made the mistake once of adding more pineapple and it ruined the cake. 
Also, use the large side of the grater, and only lightly pack the grated carrot to fill 1 1/2 cups. Finely grated carrot will also introduce too much moisture into the cake.