Print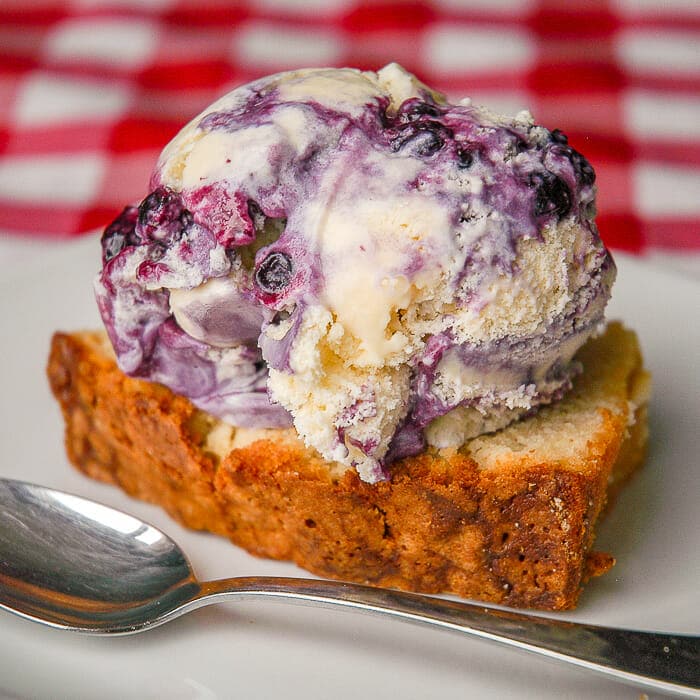 Blueberry Ripple Ice Cream
Blueberry Ripple Ice Cream - Fresh picked Newfoundland blueberries made the jam that gets rippled through this outstanding homemade ice cream. Just the thing to serve with our recipe for Bumbleberry Crumble or on buttery vanilla pound cake.
3

cups

blueberries

1

cup

sugar

½

cup

sugar

3

egg yolks

2

cups

scalded whole milk

1

cup

whipping cream

2

tsp

vanilla extract
Bring the blueberries and 1 cup sugar to a gentle boil.

Simmer uncovered for about an hour until syrupy. Cool completely in the refrigerator.

In a medium saucepan, whisk together the 1/2 cup sugar and egg yolks well, until pale and thickened.

Slowly whisk in the scalded milk.

Stir over medium heat until mixture thickens and leaves path on back of spoon when finger is drawn across, about 5 minutes. Do not boil or mixture may curdle.

Chill the custard until very cold.

Whip the whipping cream and vanilla to soft peaks.

Fold the whipped cream into the custard and process in an ice cream maker for about 25 minutes. Turn Ice cream into a large bowl and drop spoonfuls of the blueberry syrup over the top and fold in, mixing only a few times to create ripples of the blueberry jam in the ice cream.

Freeze for about an hour before serving.