Print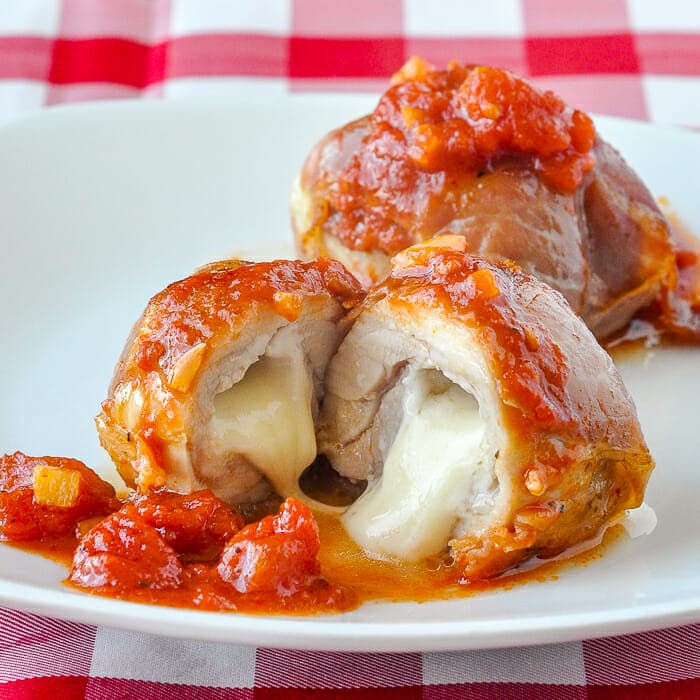 Stuffed Chicken Thighs with Mozzarella Prosciutto & Quick Tomato Sauce
Stuffed Chicken Thighs with Mozzarella Prosciutto & Quick Tomato Sauce. Easy enough for a delicious family dinner but fancy enough to serve at your next dinner party too.
Total Time
1
hour
15
minutes
2

lbs

boneless skinless chicken thighs

8 thighs

6

ounces

prosciutto

very thinly sliced

8

ounces

of fresh mozzarella

2

ounces

parmesan cheese

Optional to add when serving

salt and pepper to season
Prepare the Spicy Tomato Compote first.
4

cloves

minced garlic

6

tbsp

olive oil

8

large ripe tomatoes diced

2

tbsp

brown sugar

6

tbsp

balsamic vinegar

1

tsp

crushed chili sauce or 1/4 to 1/2 tsp chili flakes

salt and pepper to season
To prepare the Spicy Tomato Compote
In a large sauté pan, sauté the garlic in the oil over medium heat for just a minute until the garlic softens but does not brown.

Add the tomatoes, brown sugar, chili sauce, salt, pepper.

Continue to cook until the tomatoes soften and the compote reduces to a jam-like consistency.

Add the balsamic vinegar in the final minute or two of cooking before serving.

Keep warm until ready to serve over the chicken thighs with freshly cooked pasta,  rice or even roasted potato nuggets!
To prepare the chicken thighs.
Preheat oven to 375 degrees F.

Debone and skin the chicken thighs and trim of all visible fat.

Lay the trimmed chicken thighs on a cutting board and season lightly with salt and pepper. Season only thins side. The prosciutto will season the outside of th chicken thighs, so be careful to add only a little salt.

Add a 1 ounce block of fresh mozzarella cheese to the centre of each chicken thigh. Fold the chicken meat around the cheese to cover it.

Wrap each chicken thigh completely in the thinly sliced prosciutto, then place on a parchment paper lined baking sheet, keeping them separated by about 2 inches.

You can keep the prosciutto tightly wrapped to the chicken by using a couple of toothpicks during the roasting tome if you like, but use the same number of toothpicks in each, so that it's easy to remember to remove them all before serving.

Bake at 375 degrees F for about 45-55 minutes depending on the size of the thighs you are using. To be certain, use a meat thermometer to make sure the centres af the cooked pieces have hit 170 degrees F. Over baking these can cause the cheese to ooze out onto the pan.

Serve over pasta or rice with a sprinkle of the grated Parmesan cheese.
Nutrition Facts
Stuffed Chicken Thighs with Mozzarella Prosciutto & Quick Tomato Sauce
Amount Per Serving (1 serving)
Calories 951
Calories from Fat 576
% Daily Value*
Fat 64g98%
Cholesterol 297mg99%
Sodium 1086mg47%
Potassium 1317mg38%
Carbohydrates 22g7%
Protein 69g138%
Vitamin A 2615IU52%
Vitamin C 34.7mg42%
Calcium 516mg52%
Iron 3.4mg19%
* Percent Daily Values are based on a 2000 calorie diet.