Print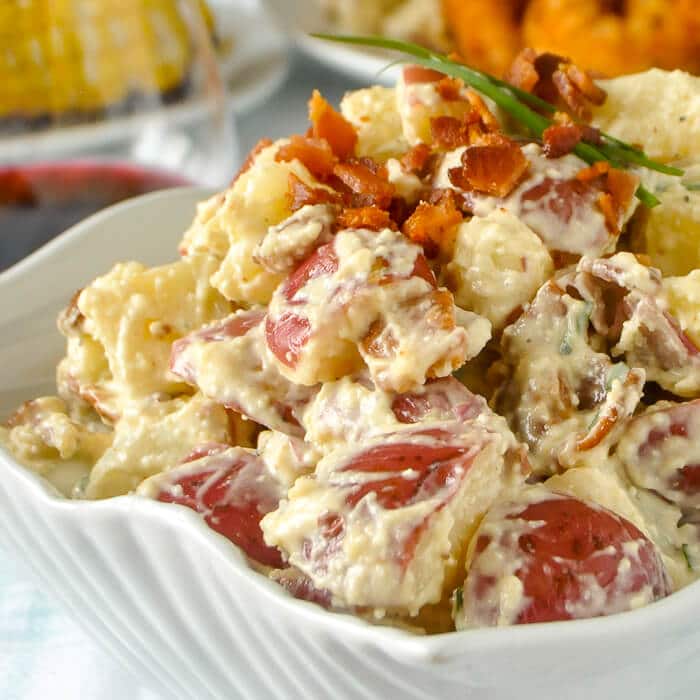 Caesar Potato Salad
Caesar Potato Salad - chunky red potatoes pieces get tossed in a homemade, garlic & parmesan loaded, caesar salad dressing along with plenty of crisp cooked bacon. This is a summer barbecue side dish you'll make time and again.
For the Caesar Salad dressing
1

cup

good quality mayonnaise

1

small head of garlic, roasted & mashed into a paste

(see note)

1/3

cup

finely grated parmesan cheese

1

tbsp

dijon mustard

juice of half a lemon

1

tbsp

Worcestershire Sauce

2

tbs

of red wine vinegar

(or white wine vinegar)

2

tbsp

chopped fresh chives or parsley

1/2  

tsp

anchovy paste

(optional or to taste)

pinch salt and pepper to season
Wash the potatoes and cut into 1 inch chunks. Cook in gently simmering salted water for about 10 minutes or until fork tender. Be careful not to overcook them.

When cooked, drain and spread the potato chunks on a parchment paper lined cookie sheet to cool quickly.

While the potatoes are cooking, crisp cook the bacon and roughly chop with a chefs knife.

Mix all of the ingredients of the caesar salad dressing together and toss together in a large bowl along with the cooled potatoes and the crisp cooked bacon.

Chill well before serving.
Note: To roast a head of garlic, cut a little off the top of the head (1/4  inch or so) to reveal the cloves inside. Place the garlic head on a square of aluminum foil, sprinkle on a little salt and pepper to season and then drizzle with a teaspoon of olive oil. Bring all sides of the aluminum foil together and twist to seal the garlic head inside. Roast in a 350 degree F oven for about 45 minutes. Squeeze the garlic cloves out of their skins and mash with a fork until a smooth paste forms.