Print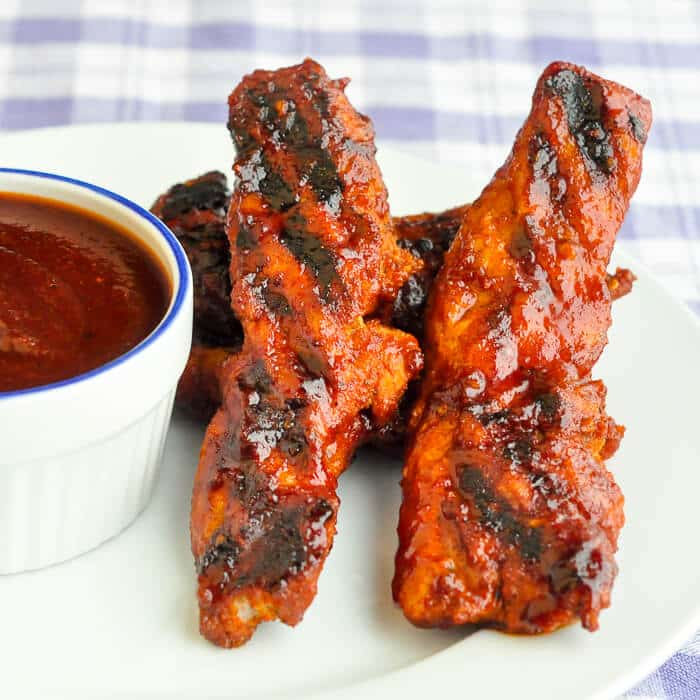 Spicy Barbecue Boneless Ribs
Spicy Barbecue "Boneless Ribs" - a lower fat, much quicker cooking, and totally delicious alternative to traditional ribs using pork tenderloin.
Servings
3
lbs boneless ribs
For the Dry Rub (Mix all ingredients together until very well combined)
2

tbsp

smoked paprika

3

tbsp

paprika

1

tsp

five spice powder

3

tbsp

powdered ginger

3

tbsp

dry mustard

1

tsp

dry thyme

1

tsp

black pepper

1

tbsp

garlic powder

2

tsp

salt

3

tbsp

brown sugar

3

tbsp

chili powder

1

tbsp

crushed chili flakes

more or less to taste
For the Sauce
2

tbsp

olive oil

4

cloves

finely minced garlic

1 1/2

cups

plain tomato sauce

6

tbsp

reserved dry rub

1/4

cup

molasses

1/4

cup

brown sugar

1/4

cup

apple cider vinegar

2

tsp

smoked paprika
Place the tenderloin on a large cutting board. cover with a couple of layers of plastic wrap and using a meat mallet or other heavy object (my marble rolling pin works great) pound the tenderloin to about a half inch thickness and then cut it into 1 inch wide strips.

Reserve 6 tbsp of the dry rub to use in the barbeque sauce.

Toss the pork strips in the dry rub so that they are completely covered in the rub. Cover with plastic wrap and place in the fridge for several hours or overnight.

Grill over high heat for only a couple of minutes per side. Brush both sides of the ribs with barbeque sauce and cook for an additional minute or two. Let the ribs rest for a few minutes before serving with additional BBQ sauce for dipping.
To prepare the BBQ Sauce
In a small saucepan over medium heat add the garlic and olive oil.

Stir over medium heat for a minute to soften the garlic.

Add all of the remaining ingredients for the sauce.

Reduce heat and simmer for 15 minutes over low heat or until the sauce reaches a thick crushable consistency.