Print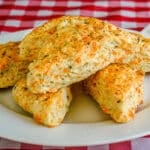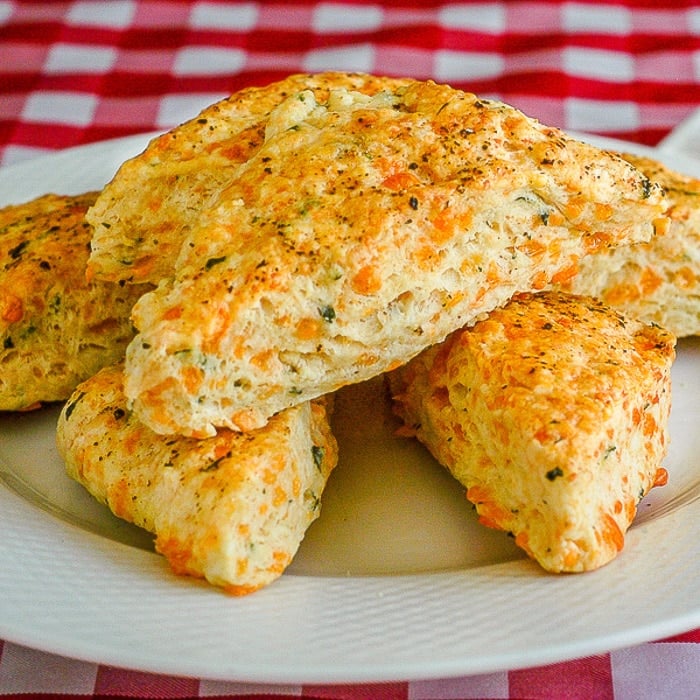 Cheese and Herb Scones & Breakfast Sandwiches
Cheese and Herb Scones & Breakfast Sandwiches - a great standard recipe for savoury scones that are delicious to serve with hearty soups...and they make the start of delicious breakfast sandwiches too.
3

cups

flour

1/2

cup

sugar

3

tsp

baking powder

½

tsp

salt

¾

cup

butter

½

cup

grated Parmesan

½

cup

grated aged cheddar cheese

1

finely minced garlic clove

½

tsp

coarse black pepper

2

tsp

your favorite dried herbs or 3 tbsp chopped fresh herbs

1

cup

soured milk
In a food processor, combine the flour sugar baking powder,salt and butter until mixture resembles a coarse meal. Pea sized pieces of butter should still be visible in the mix.

Remove to a large bowl and stir in the parmesan, cheddar, garlic, pepper and dried herbs.

Make a well in the center of this mixture and add the soured milk. (to make soured milk just a a tbsp of vinegar to lemon juice tot eh milk)

Pour into the well and mix only enough to form a dough ball. Roll to 1/2 inch thickness and cut out scones with a knife or biscuit cutter and place on parchment lined baking sheet. Brush an egg wash over the tops if desired. Bake at 375 degrees F for about 25 minutes or until an evenly light golden brown. Best served warm. Makes about a dozen large scones.
To make Scone Breakfast Sandwiches
Warm scones if necessary for a few seconds in the microwave or in a foil wrap pouch in the oven for a few minutes. Split scones and fill with:
Scrambled eggs
Bacon or ham
Roasted red peppers