Print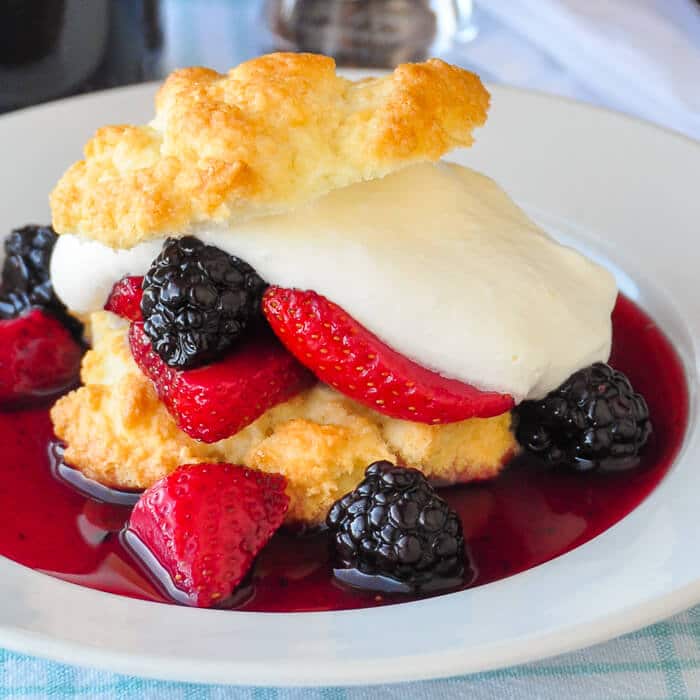 Drunken Berry Shortcakes
Drunken Berry Shortcakes - fresh berries are soaked in port wine for several hours or overnight before being served on homemade sweet biscuits with vanilla whipped cream.
For the Sweet Buttermilk Drop Biscuits
1

cup

flour

3

tbsp

sugar

2

tsp

baking powder

pinch salt

1/4

cup

very cold butter

cubed

1

tsp

vanilla extract

3

ounces

buttermilk
For the Vanilla Whipped Cream
1

cup

whipping cream

2

tbsp

icing sugar

powdered sugar

1

tsp

pure vanilla extract
To prepare the Drunken Berries
In a glass bowl, toss the berries, sugar and port wine together.

Cover with plastic wrap and eave to soak in the fridge for at least a couple of hours or overnight.

Give the berries an occasional toss every hour or so.
To prepare the Sweet Buttermilk Drop Biscuits
This recipe makes about 6 large biscuits.

I start these in my food processor because it is so fast but they can be made just as easily in a large bowl by cutting the butter in with a pastry blender or even 2 knifes held between the fingers.

In a food processor, combine the flour sugar, baking powder and salt, then add the cold butter.

Pulse process until this mixture resembles a coarse meal.

Mix together the vanilla extract and buttermilk.

Pour this over the surface of the dry mixture. Toss all together gently with a rubber spatula, only enough to form a dough ball.

Drop by heaping tablespoonfuls onto a parchment lined baking pan.

Bake at 375 degrees F for 20 - 25 minutes or until light golden brown. Baking time will vary depending on the size of your biscuits.
To prepare the Vanilla Whipped Cream
Add the whipping cream, icing sugar and vanilla extract to the bowl of an electric mixer.

Whip together until soft peaks form.
To plate the shortcakes
I use rimmed plates as shown in the photo or very shallow bowls to serve the shortcakes, to contain the port and berry jucies.

When serving I like to drain the port off of the berries and pour a little of it on the plate or in the bowl, for a pretty presentation.

I split the biscuits in half horizontally, spoon on a half cup of berries per serving and top with a dollop of vanilla whipped cream before topping with the second half of the biscuit.