Print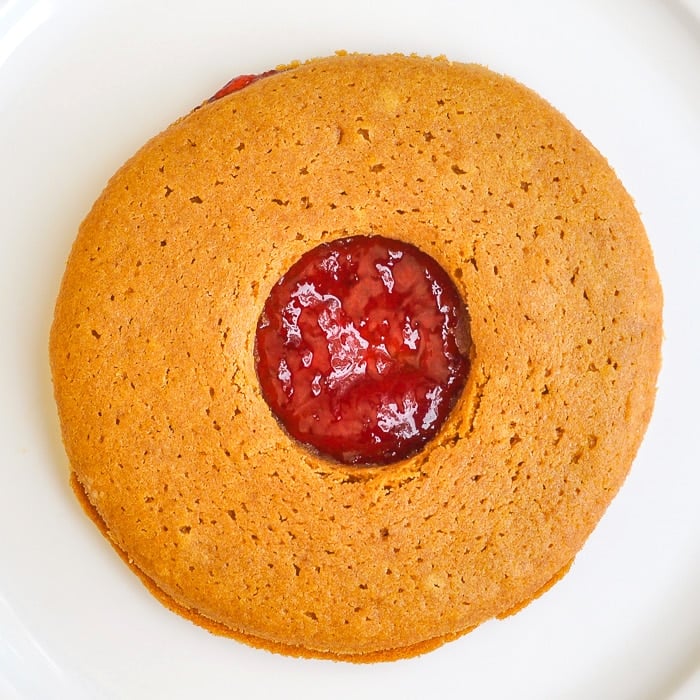 Newfoundland Jam Jams
Newfoundland Jam Jams - Jam Jams from Purity Factories are a Newfoundland institution. Here's a recipe for my homemade version of this local molasses and jam cookie classic.
Servings
12
large or 24 small cookies
¾

cup

lightly packed dark brown sugar

¾

cup

butter

1

egg

½

cup

molasses

2¾

cups

all-purpose flour

¼

teaspoon

salt

2

teaspoons

baking powder

1

tbsp

partridgeberry apple jam per cookie

(or your favorite jelly)
Sift together the flour salt and baking powder and set aside.

Cream the brown sugar with the butter.

Beat in the egg.

Beat in the molasses.

Stir in the dry ingredients until a soft dough forms.

Chill dough for several hours or overnight before rolling it out on a well floured board and cutting out 3 inch circles. Cut a ½ inch circle out of the center of half of the rolled out cookies.

Bake on a parchment lined baking sheet at 350 degrees F for about 10-12 minutes.

Flip the bottom halves of the cookies over (those without the center holes) on the cookie sheet and while the cookies are still hot, spoon 1 tbsp partridgeberry apple jam per cookie (or your favorite jelly) onto the middle of the flipped cookies and spread it out slightly but not to the edges.

Use the cookies with the circle cut-outs as the tops of the sandwich cookies and press down slightly.

Return to the oven for 2-3 minutes. This step helps the jam to stick better but you can just cool them and put them together cold too, but they tend to be a little messier.

Cool on a wire rack.

Alternatively, you can just roll the dough into 1 inch balls, roll the balls in plain sugar and bake them on a parchment lined cookie sheet for about 12 minutes at 350 degrees F. You can make sandwich cookies out of them or serve them as soft molasses cookies just as they are.