Print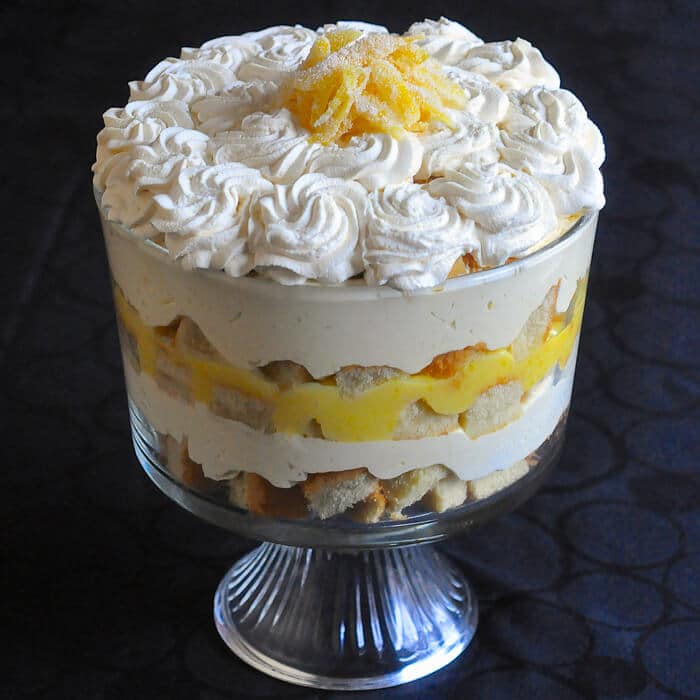 Lemon Mousse Trifle
Lemon Mousse Trifle - a lemon lovers dream! It's a simple but delicious combination of sponge cake, lemon mousse, limoncello liqueur and whipped cream.
Total Time
1
hour
10
minutes
To make the Lemon Curd
In a small saucepan combine the egg yolks, sugar, lemon juice and zest.

Cook slowly over medium low heat for about 10 minutes stirring constantly until the mixture thickens enough to coat the back of a wooden spoon.

Remove from heat and stir in the butter a few pieces at a time until completely smooth. Cover with plastic wrap and chill completely in the fridge.
To make the Lemon Mousse
Whip the whipping cream, icing sugar and vanilla extract to firm peaks. Remove about 1/4 of the whipped cream and reserve it for the top of the trifle.

Using a rubber spatula, fold the chilled lemon curd through the whipped cream until thoroughly blended.
To construct the trifle
Place 1/4 of the cake cubes in the bottom of the trifle bowl and sprinkle with 1 ounce of the limoncello if you are using it. Spoon on 1/3 of the lemon mousse mixture. (or 1/2 if you plan the extra lemon curd layer at the center. See Note.)

Repeat the layer until you finish with a final layer of cake and sprinkle on the remaining limoncello.

Add the reserved whipped cream on top. Garnish with candied lemon peel if you like. Chill the trifle for several hours or even overnight before serving.
The middle layer of lemon curd as pictured is optional in this recipe. If you want to add it, I recommend making 1 1/2 times the lemon curd recipe or even double it if you love lemon curd as I do.
If you like lemon curd that's a little less intense in flavour, use the zest of only one of the lemons in the recipe; about a tbsp should be fine.