Print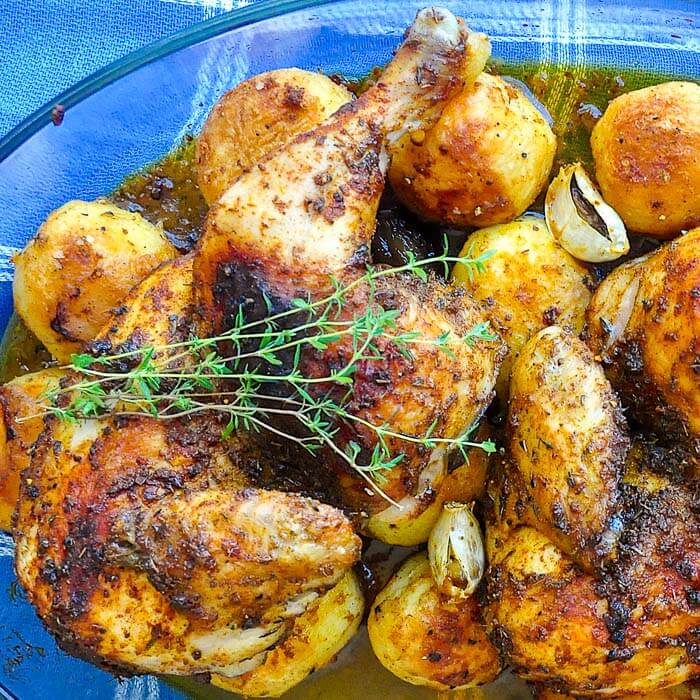 Smoked Paprika Chicken and Potatoes
Smoked Paprika Chicken and Potatoes - In about 90 minutes you can serve this amazing comfort food meal of succulent roasted smoked paprika chicken with thyme on a bed of crispy roasted potatoes.
Total Time
1
hour
30
minutes
To prepare the chicken
Cut the chicken in half by removing the backbone and splitting through the breast bone. (or use large chicken pieces)

Pat the chicken dry with paper towels.

Mix all the ingredients in the spice paste rub together and rub it liberally all over the chicken. Let it marinate in the fridge while you get the potatoes ready, or even overnight if you want to plan ahead.
To prepare the potatoes.
Preheat the oven to 400 degrees F. Heat a 9x13 (or similar size) roasting pan or dish in the oven at the same time.

Peel the potatoes and cut them into 3 inch chunks if they are large.

Boil for 5 minutes in salted water before draining all the water off.

Return the potatoes to the pot, put the cover back on and give the pot a few good shakes to rough up the surface of the potatoes. This helps them get crispier. Let them steam off for 5 minutes.

Add a pinch of salt and pepper along with the olive oil and garlic cloves and the smoked paprika if you are using it. Toss together well to coat the potatoes in the oil.

Working quickly, take the hot pan from the oven and add the contents of the potato pot to it. The potatoes should sizzle as they hit the pan. this ensures they wont stick. Get them back into the hot oven immediately and cook for 15 minutes.

After 15 minutes turn the potatoes once and place the chicken pieces, skin side up, on top of them. Return the pan to the oven for 45 to 60 minutes depending on the size of your chicken pieces, until the chicken is fully cooked. It should be nicely browned and the internal temperature of the largest pieces should be at least 170-175 degrees F on a meat thermometer.

Let the chicken rest for 5-10 minutes before serving.