Print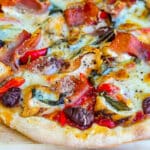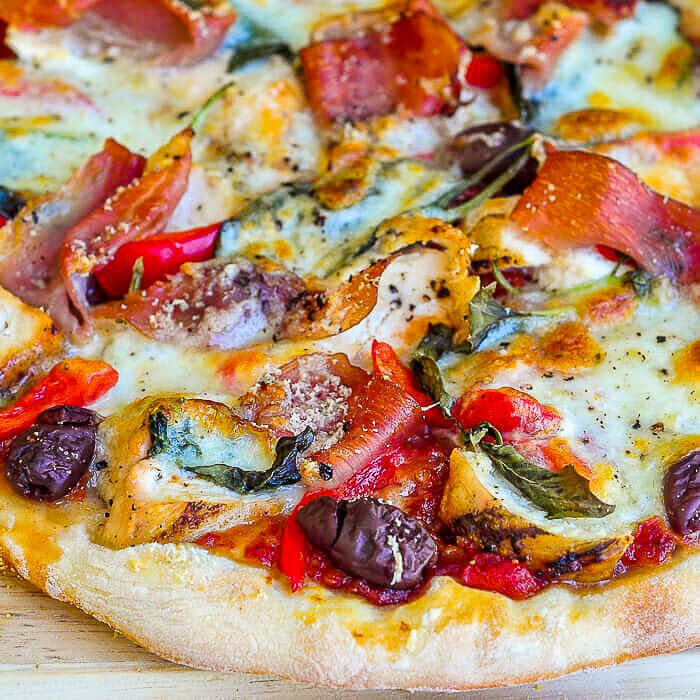 Grilled Chicken and Prosciutto Margherita Pizza
Prosciutto Pizza Margherita with Grilled Chicken - a thin crust margarita pizza base is used to build this incredible combination of flavours in what may become your ultimate pizza combination.
Total Time
2
hours
10
minutes
Servings
8
individual pizza
For the Pizza dough (Makes sufficient for 6 or more individual pizzas.)
4

cups

flour

1/2

tsp

instant rise yeast

1 1/2

cups

lukewarm water

2

tsp

sea salt
For the Roasted Tomato Jam
6-8

large vine ripened tomatoes diced

2

cloves

minced garlic

4

tablespoons

extra virgin olive oil

½

teaspoon

kosher salt

½

teaspoon

freshly ground black pepper

1

teaspoon

brown sugar
For the Pizza Sauce
3

cups

Roasted Tomato Jam

4

tbsp

balsamic vinegar

2

tsp

crushed chili sauce or 1 tsp chili flakes

optional if you don't like spicy hot sauce or adjust to taste
Additionally you will need
For the pizza Dough.
Place all ingredients in the bowl of a stand mixer equipped with a dough hook. Mix for 5 -10 minutes on medium speed. You may need to add a little more flour, a tablespoon at a time until the dough doesn't stick to the sides of the bowl.

Alternatively stir together with a wooden spoon before turning out onto a floured bread board and kneading for 5-10 minutes.

Cover the dough and allow to rise for about an hour until about doubled in size. Turn the dough onto a floured surface and knead for another few minutes. Divide into 6-8 equal portions, form into balls and let rest for about 10-15 minutes before stretching or rolling the dough out into about 10 inch rounds.
To prepare the roasted tomato jam
Toss together all ingredients in a shallow baking dish and bake at 350 degrees F for about an hour stirring occasionally until most of the liquid has reduced off the tomatoes are the consistency of jam.
To prepare the Pizza Sauce
You can use the Roasted Tomato Jam as is but for extra flavour and a hit of spice, mix it with the balsamic vinegar and crushed chili paste.
To put the pizza together
Preheat your pizza stone in middle rack of your oven for half an hour at 450 degrees F.

Place one round on a wooden peel that has been well sprinkled with cornmeal. The cornmeal will allow the pizza to slide off the peel (I've even used a thin piece of cardboard in a pinch if you do not have a peel.) Make sure your pizza is sliding on the cornmeal base before adding your toppings.

Spread sauce over the pizza dough before adding the

sliced grilled chicken

fresh mozzarella slices

fresh basil leaves

thin sliced prosciutto

pitted kalamata olives

julienned red peppers

freshly grated Parmesan cheese

cracked black pepper

Shake your peel to make sure the pizza is not stuck. Slide the pizza onto the hot stone, shaking it slightly in a back and forth motion as you slowly retract the wooden peel. Bake for about 8-10 minutes or until the bottom is evenly brown and the top cheese begins to brown slightly. Remove from oven and allow to stand for 5 minutes before slicing and serving.