Print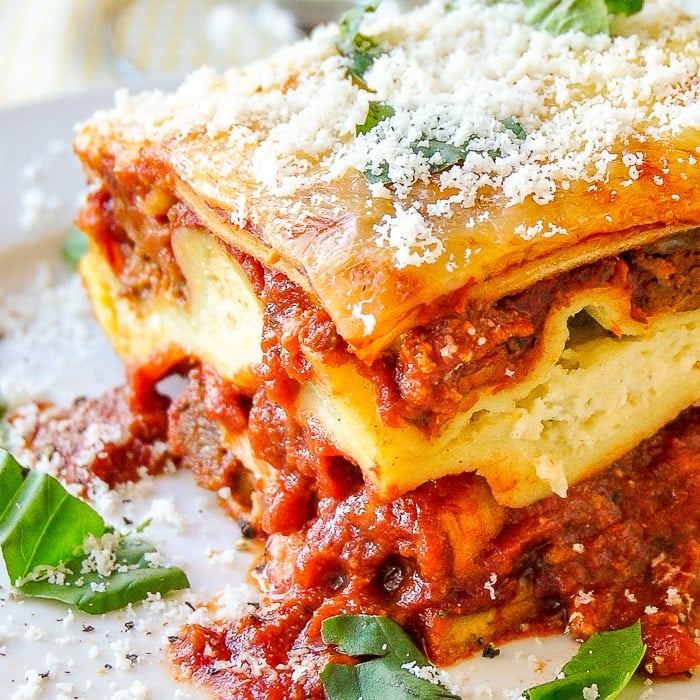 Chicken Chorizo Lasagna
Chicken Chorizo Lasagna. Another of our deliciously different classic pasta dinner recipes with a super flavourful twist. This will easily become a new family favourite!
Prep Time
1
hour
30
minutes
Cook Time
1
hour
20
minutes
Total Time
2
hours
50
minutes
For the Homemade Pasta
4

cups

durum semolina

2

cup

all purpose flour

8

large eggs

room temperature
For the Sauce
3

tbsp

olive oil

4

cloves

minced garlic

1 ½

pounds

ground chicken

or pork or beef if you prefer

½

pound

chorizo sausage

1

small red onion finely diced

2

large cans

32 oz can crushed roma tomatoes

½

bunch fresh basil

1

tbsp

ground or crushed fennel seed

1

tbsp

oregano

1

whole bay leaf

1

large carrot finely grated

½

cup

finely diced celery

2

tbsp

brown sugar

Salt and pepper to season

½

tsp

chilli flakes

optional
To make the homemade pasta
Combine flour and durum semolina and make a well in the centre. Crack your eggs into the well and using a fork to beat the eggs, slowly begin to incorporate the flour into the eggs until everything is combined into a very stiff dough.

You may add a little water to incorporate the dry ingredients if necessary but be careful not to make your dough too loose; it should still be quite a dense dough. Add a little extra flour if the dough is too sticky. The dough should be slightly stiffer than play dough.

Knead for 5 -10 minutes on a bread board, cover in plastic wrap and allow to rest for 20 minutes.

Knead again and allow to rest again.

You can use a pasta machine to roll the dough into sheets about 1/8 inch thickness or just a regular rolling pin on a well floured surface.

Boil pasta sheets for 1-2 minutes in salted water before using in the lasagna assembly.
For the sauce:
In a large saucepan sauté the olive oil and garlic for 1 minute.

Add the ground chicken, chorizo sausage and red onion.

Cook until the meat has slightly browned. Add all of the remaining ingredients for the sauce.

Slowly simmer for about 30-40 minutes or until the sauce thickens, stirring occasionally. Remove bay leaf.
To make Ricotta Filling
Mix together well.

Start constructing the lasagna by adding a cup of sauce to the bottom of a large, deep lasagna pan about 9x13 or a little larger.

Add a layer of pasta, half the remaining sauce, another layer of pasta, then the ricotta filling.

Add another layer of pasta and the remaining sauce. Top with a final layer of pasta and the grated mozzarella cheese.

Bake at 350 degrees for about an hour depending on the size of your lasagna pan.

It is very important to let stand for 20 - 30 minutes before cutting and serving. This will allow it to settle, cool a little and make it easier to cut and serve. A lasagne, straight from the oven is always very sloppy to serve.
NOTE : You can use store bought lasagna noodles (fresh if possible) or make your own from the recipe provided below. If using dry lasagna noodles, I par boil them for 5 minutes before assembling the dish.
Nutrition Facts
Chicken Chorizo Lasagna
Amount Per Serving (1 serving)
Calories 0
* Percent Daily Values are based on a 2000 calorie diet.