Print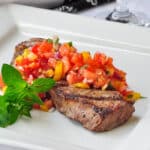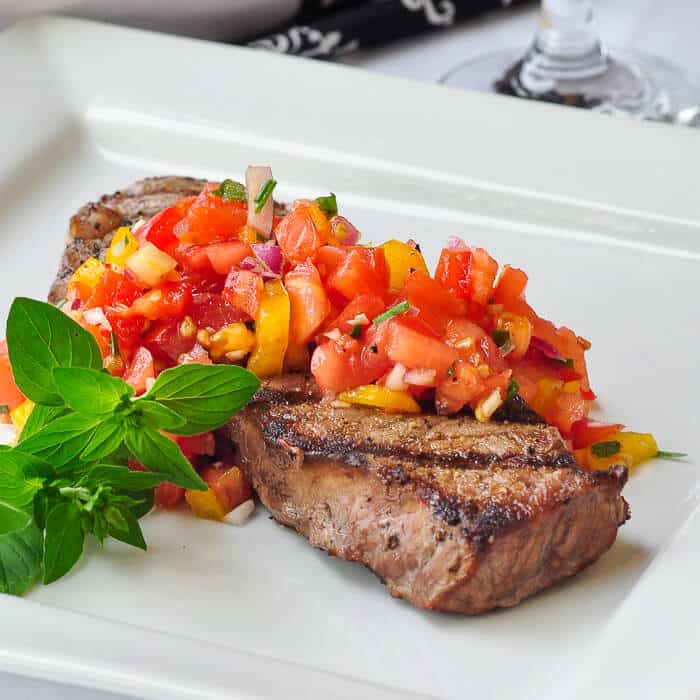 Mexican Spiced Steak with Sweet Pepper Salsa
Mexican Spiced Steak with Sweet Pepper Salsa - beautifully seasoned grilled steak with a balancing fresh sweet pepper salsa. A tasty change for steak night.
For the dry rub
1

tsp

cumin

½

tsp

cinnamon

pinch ground cloves

1

tsp

ground dry oregano

(use Mexican if you have it)

1

tbsp

chili powder

½

tsp

ground coriander seed

1

tsp

coarsely ground black pepper
For the Sweet Pepper Salsa
3

small tomatoes diced

2

or 3 small sweet bell peppers diced small

(red, yellow or orange or a combination)

1

small red onion diced small

2

cloves

minced garlic

2

tbsp

chopped fresh oregano

(Mexican oregano if available.)

2

tbsp

chopped chives

juice and zest of one lemon

½

tsp

kosher salt

1

tbsp

brown sugar

the remaining spice mix used to season the steaks
Lightly season the steaks with salt and use about half of the spice mix to rub onto both sides of the steaks. Cover with plastic wrap and let them and let them marinate in the fridge for a couple of hours or overnight.

Before grilling, take them out of the fridge to warm up for about a half hour. Grill to desired internal temperature. About 3½ minutes per side over high heat for a 1 inch thick steak for medium rare. Let the steak rest, covered in aluminum foil for 5 minutes before slicing thinly and serving with the sweet pepper salsa.
For the Sweet Pepper Salsa
Toss together well. Let the salsa sit in the fridge for an hour or two if time permits, tossing it together occasionally.