Mexican Spiced Steak with Sweet Pepper Salsa – beautifully seasoned grilled steak with a balancing fresh sweet pepper salsa. A tasty change for steak night.
It was steak night at our house and I was salivating at the prospect of a thick juicy grilled cut of beef. We had some nice strip loin steaks on hand for dinner and we planning baked potatoes with sour cream and chives to go along with them when the kids decided we should have tacos instead. We did have some soft shell tacos on hand so it wasn't a problem to make them.
There were also some wonderful summer fresh, locally produced tomatoes in the fridge, so we had the beginnings of a light fresh salsa. That turned out to be a very good idea indeed.
At that point I thought why not add some Mexican Spice to the steak as well, so I came up with a simple mix of spices to use as a marinating dry rub for the steak and as seasoning for the salsa. It worked out deliciously!
I still baked my potatoes and had them with my steak. I added the sour cream to my baked potato and topped it and the steak with some of the fresh salsa. It was terrific.

The kids grated some pepper jack cheese and added it to their soft shell tacos and they looked so good I had to sneak one of my own too. A little imagination and an a willingness to be adaptable is sometimes all it takes to make everyone at the dinner table very happy.
We purposely had another steak and extra salsa leftover because I wanted to try them both on a new version of grilled pizza. You can find all about that success and get the recipe for Grilled Steak Taco Pizza here.
Like this Mexican Spiced Steak Chili recipe?
You'll find hundreds of other great ideas in our Beef Recipes Category and even more in our BBQ & Grilling Category.
To keep up with the latest home style cooking & baking ideas from Rock Recipes plus daily recipe suggestions from decadent desserts to quick delicious weekday meals, be sure to follow Rock Recipes Facebook Page and follow us on Instagram Instagram.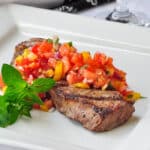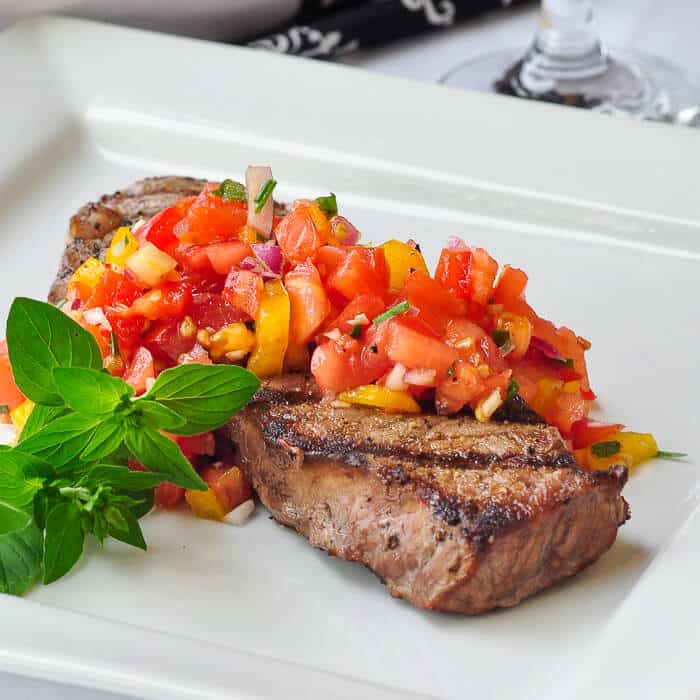 Mexican Spiced Steak with Sweet Pepper Salsa
Mexican Spiced Steak with Sweet Pepper Salsa - beautifully seasoned grilled steak with a balancing fresh sweet pepper salsa. A tasty change for steak night.
Ingredients
For the dry rub
1

tsp

cumin

½

tsp

cinnamon

pinch ground cloves

1

tsp

ground dry oregano

(use Mexican if you have it)

1

tbsp

chili powder

½

tsp

ground coriander seed

1

tsp

coarsely ground black pepper
For the Sweet Pepper Salsa
3

small tomatoes diced

2

or 3 small sweet bell peppers diced small

(red, yellow or orange or a combination)

1

small red onion diced small

2

cloves

minced garlic

2

tbsp

chopped fresh oregano

(Mexican oregano if available.)

2

tbsp

chopped chives

juice and zest of one lemon

½

tsp

kosher salt

1

tbsp

brown sugar

the remaining spice mix used to season the steaks
Instructions
Lightly season the steaks with salt and use about half of the spice mix to rub onto both sides of the steaks. Cover with plastic wrap and let them and let them marinate in the fridge for a couple of hours or overnight.

Before grilling, take them out of the fridge to warm up for about a half hour. Grill to desired internal temperature. About 3½ minutes per side over high heat for a 1 inch thick steak for medium rare. Let the steak rest, covered in aluminum foil for 5 minutes before slicing thinly and serving with the sweet pepper salsa.
For the Sweet Pepper Salsa
Toss together well. Let the salsa sit in the fridge for an hour or two if time permits, tossing it together occasionally.