About the cook: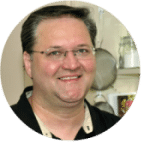 Hi, I'm Barry. I'm Dad to two amazing teenagers, an author of 4 best-selling cookbooks from Breakwater Books, a freelance food writer & full time blogger.
Real food for real people, is what Rock Recipes is all about. I've had a lifetime love of cooking & baking that's led me to share over 1600 recipes on my blog over the last 10 years.
I've spent many years developing and adapting recipes in my own kitchen. On RockRecipes.com you will find some traditional favourites, as well as my own creations and adaptations of recipes to add a local twist that's accessible to all. Simple recipes using simple, everyday ingredients has been the key to our success…and that's just how we plan to keep it.
These are just great recipes, no matter where they came from, but most have made repeated appearances in my kitchen. My own photographs of the prepared dishes and tempting baked treats always accompany each and every recipe.
Please come back often, there's always great food to be found in my St. John's, Newfoundland kitchen! Thanks for visiting!
Our website stats.
RockRecipes.com currently sees about 1.5 million to 2.5 million page views per month on a regular basis. During September to December this number can increase even more or more. December of 2019 saw a record 2.5 MILLION page views in the calendar month..
Rock Recipes is on Facebook, Twitter, Pinterest and Instagram.
Rock Recipes currently has just over 400,000 followers on Pinterest where many of our most popular recipe pins have in excess of 100,000 shares/repins.
More than 160,000 folks have also joined the "Rock Recipes" Facebook page to see previews of upcoming recipes, participate in our giveaways, or just browse all of the photos from Rock Recipes all in one place. Come join us too on all of our social media accounts!
Rock Recipes Facebook Page 160,000+ followers
Follow Rock Recipes on Twitter 30,000+ followers
Follow Rock Recipes on Pinterest 420,000 + followers
Follow Rock Recipes on Instagram 10,000+ followers
Plus, we recently launched a brand new. Rock Recipes Newsletter, which gathered 40,000 subscribers.
Want to work with me?
I've worked on promotional campaigns, giveaways, sponsored posts and recipe development with many major brands in Canada and the U.S including:
KitchenAid
Maple Leaf Foods Canada
Sears Canada
Holsum Bakeries
Barilla Pasta
Phillips Appliances
Egg Farmes of Canada
KFC Canada
Catelli Pasta
Penotti
Muir Glen Tomatoes
Corningware Canada
Sabatier Canada
Starfrit Canada
McCormick's Spices
Windsor Salt
French's Mustard
Weston Bakeries …and more
If you'd like to discuss partnership possibilities please contact me at barrycparsons@gmail.com