Print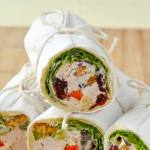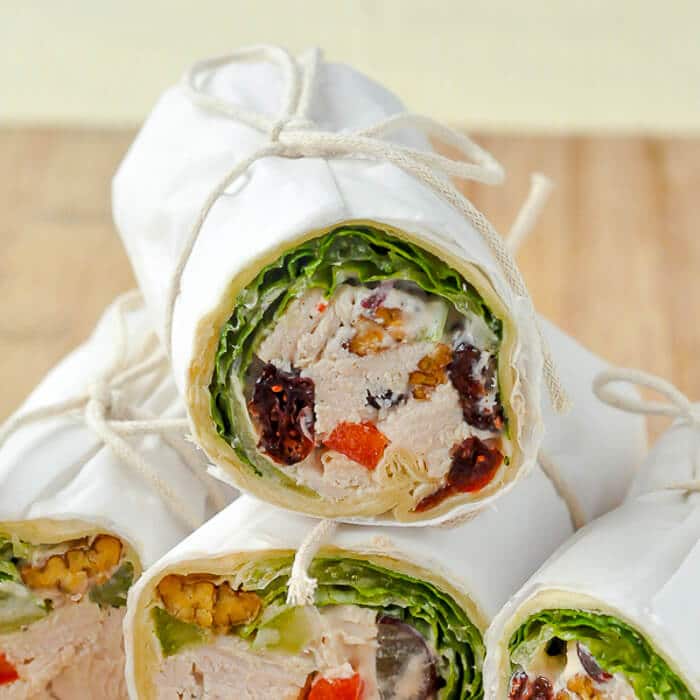 Turkey Waldorf Salad Sandwich Wraps
Turkey Waldorf Salad Sandwich Wraps - a post Thanksgiving sandwich will never be the same once you sample this delicious combination of flavours and textures.
1/4

cup

low fat mayo

1

tbsp

lemon juice

pinch salt and pepper to season

pinch dried summer savoury or sage

1/4

tsp

paprika or smoked paprika

2

cups

diced turkey breast

1/4

cup

finely diced celery

1/4

cup

finely diced red pepper

3

tbsp

dried cranberries

1/2

cup

seedless grapes

cut in half

1/4

cup

toasted pecans

4

large flour tortillas

white or whole wheat

Romaine lettuce or spinach
Toast the pecans in a shallow pan at 350 degrees F for 10 minutes, tossing once at the 5 minute mark.

Stir together the mayo, lemon juice, salt, pepper, savoury and paprika to form a dressing.

Add the turkey, celery, red pepper, dried cranberries, grapes and pecans to a bowl.

Pour the dressing on and toss well.

Cut four 12 inch squares or larger of parchment paper and lay a tortilla on top of each one.

Add a few layers of lettuce leaves, about 5 inches wide to the centre of the tortilla.

Spoon the turkey salad on top of the lettuce.

Bring the two sides up over the salad a little so that they form the ends of the sandwich wrap. then roll the tortilla as you would for a burrito.

Roll the sandwich wrap in the parchment paper, bringing two sides of the paper over the ends of the wrap in the same way that you rolled the sandwich.

Tie two pieces of butcher string about an inch and a half from each end.

Store the wraps in the fridge until ready to serve. When serving use a sharp serrated knife to cut straight through the paper and wrap at once.