Turkey Waldorf Salad Sandwich Wraps. A post Thanksgiving sandwich will never be the same once you sample this delicious combination of flavours and textures.
These Turkey Waldorf Salad Sandwich Wraps are another delicious and inventive way to use up all that Thanksgiving or Christmas leftover turkey…or at any other time of year you roast a turkey. At our house that's about once a month. Turkey is such an economical way to feed a crowd at any time of year and we've already conquered the problem of turkey leftovers with lots of great ideas on this website over the years.
This delicious wrap sandwich was inspired by a classic Waldorf Salad which has toasted walnuts, apples, grapes and celery. That salad always reminds me of the classic episode of the British TV comedy series Fawlty Towers with John  Cleese. 
Taking my usual approach of using what is on hand, I used toasted  pecans instead to walnuts for great crunch and used a few sweet dried cranberries for extra flavour. I added in some diced turkey for a really substantial sandwich but of course, leftover chicken will work just as well. I intentionally didn't use apples but some julienned apple sticks might make a nice addition if you'd like to try that too.
Spouse took a couple of these Turkey Waldorf Salad Sandwich Wraps to work for lunch to share with her co-workers and got rave reviews. I love the idea of tying the parchment paper with butcher string before you cut into the wrapper. It makes for a very appealing, nostalgic presentation. 
Another idea I'll be using is to make these much smaller using 6 inch tortillas instead of 10 inch tortillas. I think a plate of these would make a terrific addition to a pot luck supper or to pass around as finger food at Holiday parties. The parchment paper wrappers would do a great job of preventing spills on those new Holiday outfits too.
One thing's for sure, once you try this flavour combination, boring,  plain old turkey sandwiches,  just won't cut it for those Thanksgiving and Christmas turkey leftovers.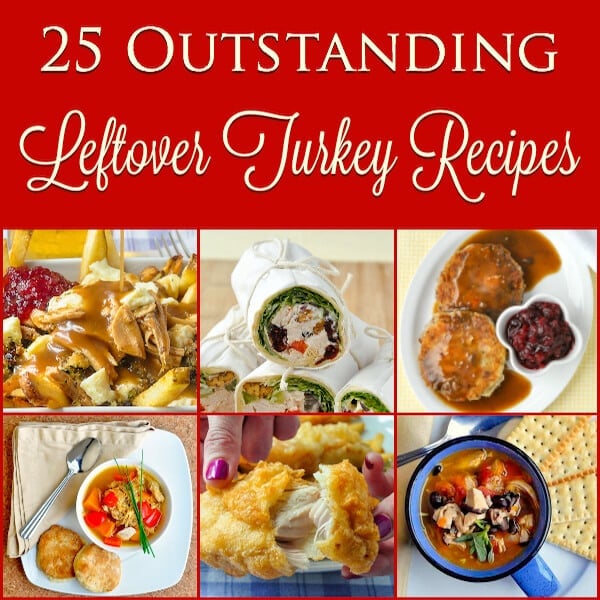 Like this Turkey Waldorf Salad Sandwich recipe?
You can find over 2o0 links to great leftover turkey recipes right here.

To keep up with the latest home style cooking & baking ideas from Rock Recipes plus daily recipe suggestions from decadent desserts to quick delicious weekday meals, be sure to follow Rock Recipes Facebook Page and follow us on Instagram.
You might also like: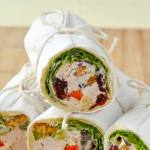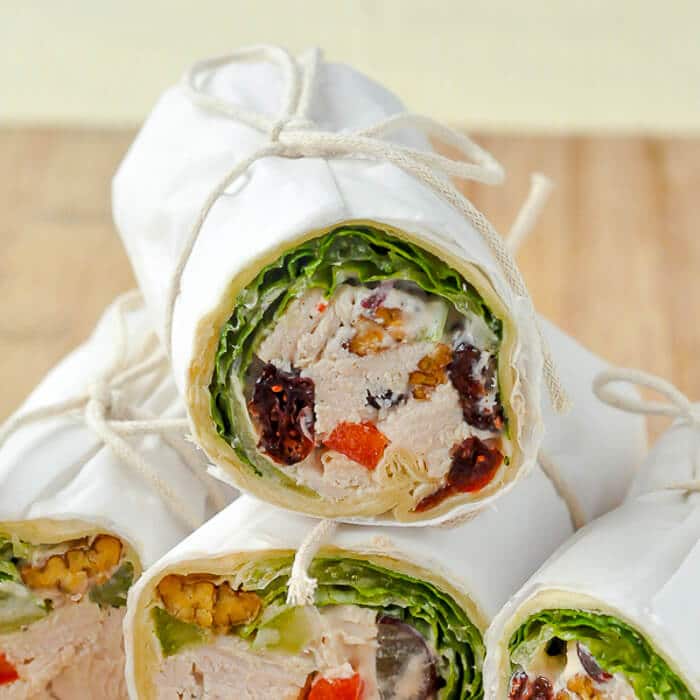 Turkey Waldorf Salad Sandwich Wraps
Turkey Waldorf Salad Sandwich Wraps - a post Thanksgiving sandwich will never be the same once you sample this delicious combination of flavours and textures.
Ingredients
1/4

cup

low fat mayo

1

tbsp

lemon juice

pinch salt and pepper to season

pinch dried summer savoury or sage

1/4

tsp

paprika or smoked paprika

2

cups

diced turkey breast

1/4

cup

finely diced celery

1/4

cup

finely diced red pepper

3

tbsp

dried cranberries

1/2

cup

seedless grapes

cut in half

1/4

cup

toasted pecans

4

large flour tortillas

white or whole wheat

Romaine lettuce or spinach
Instructions
Toast the pecans in a shallow pan at 350 degrees F for 10 minutes, tossing once at the 5 minute mark.

Stir together the mayo, lemon juice, salt, pepper, savoury and paprika to form a dressing.

Add the turkey, celery, red pepper, dried cranberries, grapes and pecans to a bowl.

Pour the dressing on and toss well.

Cut four 12 inch squares or larger of parchment paper and lay a tortilla on top of each one.

Add a few layers of lettuce leaves, about 5 inches wide to the centre of the tortilla.

Spoon the turkey salad on top of the lettuce.

Bring the two sides up over the salad a little so that they form the ends of the sandwich wrap. then roll the tortilla as you would for a burrito.

Roll the sandwich wrap in the parchment paper, bringing two sides of the paper over the ends of the wrap in the same way that you rolled the sandwich.

Tie two pieces of butcher string about an inch and a half from each end.

Store the wraps in the fridge until ready to serve. When serving use a sharp serrated knife to cut straight through the paper and wrap at once.
[asa2]1550816551[/asa2][asa2 country_code="CA"]1550816128[/asa2][asa2]1550815555[/asa2]
Rock Recipes a participant in the Amazon Services LLC Associates Program, an affiliate advertising program designed to provide a means for us to earn fees by linking to Amazon.com and affiliated sites. Our product recommendations are almost exclusively for those we currently use or have used in the past.