UPDATE – This collection of leftover turkey recipes now stands at 25 with 3 brand new entries just added this Thanksgiving. These are recipes so good, you may prefer them over the original roast turkey dinner! 
Get ready for some amazing, original leftover turkey recipes.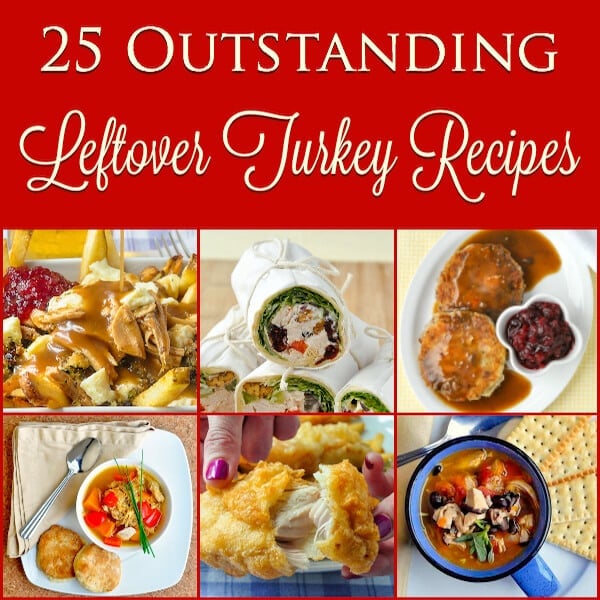 Everyone needs a little help with all those turkey leftovers and it is so easy to get at least another delicious meal or two for the family out of them; you just need a little inspiration. We've got plenty to choose from here. Check back for more, we will be adding more great leftover turkey ideas soon.
Just click the photos or the titles below to go to the individual recipe pages.
November 2017 UPDATE: Here's one more terrific turkey recipe to add to this growing collection of 26 leftover ideas!
Like this collection of leftover turkey recipes?
You can find plenty of ideas for the Holiday season in our Thanksgiving Recipes Category and our Christmas Recipes Category.
Turkey Sage and Roasted Vegetable Soup

Easy Leftover Turkey Tomato Curry
Quick and Easy Leftover Turkey Parmesan
 Leftover Turkey Mushroom Turnovers
Turkey Quinoa and Sweet Potato Soup
Turkey Dressing and Gravy Panini
Turkey Vegetable Agnolotti Soup
Avocado Turkey Club Wraps with Spicy Mayo

Leftover Turkey and Stuffing Turnovers
Cheese Garlic and Herb Scone Club Sandwiches
 Leftover Turkey Chili Soup with Cornbread Dumplings