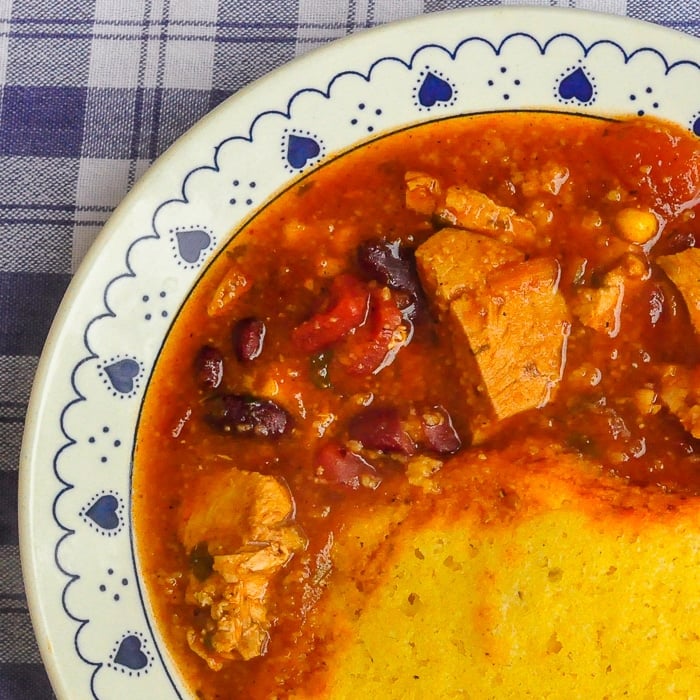 We are between two Thanksgiving seasons here in North America. Canada celebrates the harvest season holiday weeks before our neighbours to the south.
However, we both eventually need help getting rid of all that leftover turkey. I have a whole collection of leftover turkey recipes that you can find by clicking here.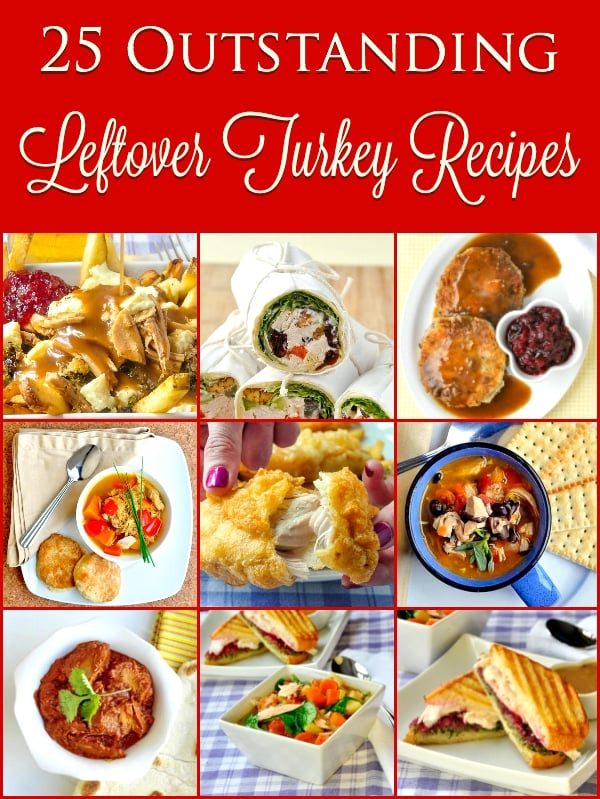 This delicious recipe was the result of a little post Thanksgiving experimentation. But, it could be enjoyed year round with leftover chicken or even diced grilled chicken breast instead of leftover turkey.
The idea comes from slow braised beef chili that I make in the oven. Then, sometimes I add cornbread dumplings in the last half hour or so.
You can use the same concept here and omit the stock at the end to make this as a chili rather than a soup too. It's terrific either way.
Leftover Turkey Chili Soup with Cornbread Dumplings
Soak 1 to 1 ½ cups dry 5 bean mix beans overnight, depending on the amount of beans you prefer in your chilli. You may use canned beans if you prefer.
In a large saute pan heat 3 tbsp olive oil.
Add:
6 cloves minced garlic
2 medium red onions
Cook until the onions begin to soften, then transfer to a covered roasting pan.
Add
2 cups tomato sauce
4 cups crushed tomatoes
2 roasted red peppers chopped
3 ears of grilled corn, removed from cob ( or 1 cup frozen corn)
1 minced jalapeño pepper( optional)
1 1/2 tsp ground cumin
4 heaping tbsp chili powder
1 tbsp ground chipotle powder
3 tablespoons molasses
Salt and pepper to season
4 tbsp chopped cilatro
pre-soaked or canned beans
Cover and place in a 325 degree F oven foe about an hour before adding
3 cups boiling hot turkey stock (or chicken or vegetable stock)
3 cups leftover diced roast turkey
Return to the oven while you prepare the cornbread dumplings.
Cornbread Dumplings
Sift together:
1 1/4 cups flour
3 tsp baking powder
1 1/2 cups cornmeal
2 rounded tbsp sugar
1/2 tsp salt
Whisk together
2 eggs
2/3 cup melted butter
1 1/2 cups milk
Fold in the dry ingredients. Drop by heaping spoonfuls onto the surface of the hot soup, cover and return to the oven for about 25 minutes or until a toothpick inserted into the center of one of the dumplings comes out clean.