The Best Apple Pie is "Just an Apple Pie". There is a bit of a secret technique in this recipe but as my 13 year old son reminded me, keep it simple; the best apple pie is still "just an apple pie".
It's Thanksgiving Day here in Canada and there has been much discussion over which pies we should serve at our family dinner. I'm always partial to Pecan Pie, Cherry Pie, Coconut Cream or Peach Pie but Thanksgiving almost cries out for a good harvest season Apple Pie.
When I said I was making an apple pie, my 13 year old son Noah, perked up and and inquired, "Just an apple pie?" When asked what he meant, he reiterated, "Just an apple pie; no exotic berries added, no fancy spices, no crumb topping… JUST AN APPLE PIE!?"
What could I say? The boy is a purist.
The lesson to be sure, is that some things need no over-complication. There is nothing wrong (and everything right) about "just" an apple pie, so that's just what I made… but in my preferred style of course.
I like to use apples that hold up well and still have some bite to them in the pie. Granny Smith apples are always a good choice for pie and that's what I've used here, as well as Granny Smith apple juice in the filling recipe for continuity of flavour.
I simmer the apple juice to reduce the volume by half and intensify the apple flavour. (Just wait until you taste the result of that little trick!) Making a homemade pie filling first and letting it cool is also what makes this a perfect apple pie.
You can get all the fruit you want in this best apple pie recipe and never have to worry about the crust over baking to get the fruit cooked through.
I don't like overly sweet fruit pies; there is only a single cup of sugar to 3 pounds of apples in this recipe but cut back more if you like.
To keep the crust as light and flaky and flavourful as possible I use a combination of vegetable shortening and butter for the best of both worlds. I also use only pastry flour (also sold as cake flour) which yields a much flakier crust than all-purpose flour.
So, on this Thanksgiving, be thankful for the simple things and enjoy this simply outstanding pie.
Like this Best Apple Pie recipe?
You'll find hundreds of other sweet ideas in our Cakes & Pies Category and even more in our Desserts Category.
To keep up with the latest home style cooking & baking ideas from Rock Recipes plus daily recipe suggestions from decadent desserts to quick delicious weekday meals, be sure to follow Rock Recipes Facebook Page and follow us on Instagram.
You might also like to try this old fashioned favourite, Vinegar Pie.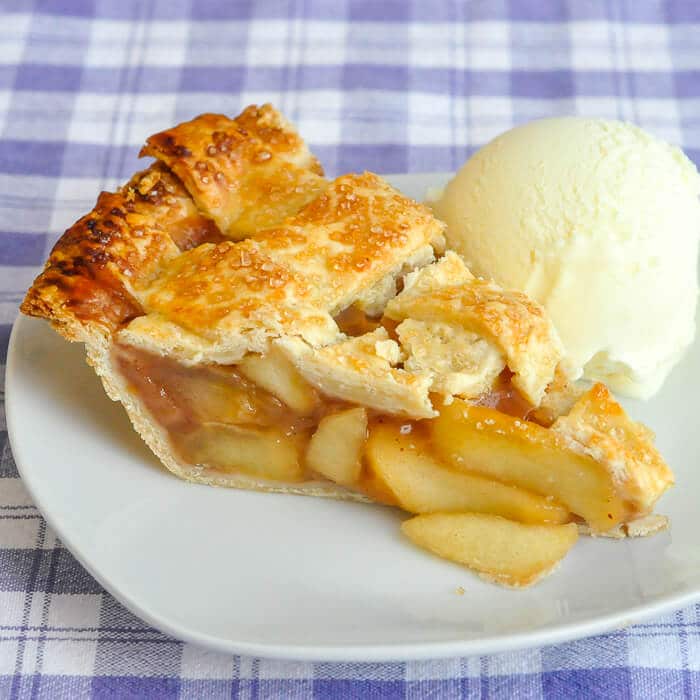 The Best Apple Pie – a.k.a. Noah's "Just an Apple Pie"
There is a bit of a secret technique in this recipe but as my 13 year old son reminded me, keep it simple; the best apple pie is still "just an apple pie".
Ingredients
Pastry:
1/2

cup

very cold butter cut in small cubes

1/2

cup

very cold vegetable shortening cut in small cubes

2 1/2

cups

pastry flour

preferable, but all purpose can be used

2

tbsp

brown sugar brown sugar

1/2

tsp

salt

1/3

cup

ice water

Use only enough to make a dough form.

1

tbsp

plain white vinegar

1

tsp

vanilla extract

1

large egg yolk

1

to 2 tbsp water
Filling:
3

lbs

Granny Smith apples

peeled cored and sliced into thick wedges

1/4

cup

butter

2

cups

apple juice

1/2

cup

brown sugar

1/2

cup

white sugar

1

tsp

ground cinnamon

1/2

tsp

freshly ground nutmeg

3

tbsp

corn starch

1/4

cup

cold water

1

to 2 tbsp turbinado sugar

optional
Instructions
To prepare the pastry
Using a food processor or a pastry cutter, cut cold butter and shortening into flour, brown sugar and salt until mixture resembles a coarse meal. Small pieces of butter should still be visible.

Pour vanilla and vinegar into cold water then pour over the mixture and work in by tossing with a fork until dough begins to form. Use your hands as little as possible and work the dough as little as possible.

Divide dough into 2 balls, flatten into 2 rounds, wrap in plastic wrap and place in the refrigerator to rest for a minimum of 20 minutes.You can make your dough the previous day but make sure you take it out of the fridge for 10 minutes to warm slightly before rolling out.
To make the filling
Melt butter in a large non-stick pan over medium heat. Saute the apples for about 5 minutes until the are fully warmed throughout but not falling apart. Set aside to cool for a few minutes.

Meanwhile, simmer the apple juice over medium-low heat. Continue to simmer until the volume of juice has reduced to 1 cup.

Add the reduced juice to the apples and return to the stove top on medium heat to get the mixture boiling, then add the sugars, cinnamon and nutmeg.

Simmer for only a minute before adding a thickening slurry made from dissolving together the corn starch and water.

Stir continuously as you add the corn starch slurry and continue to simmer stirring constantly for about a minute. Remove from heat and allow to cool to room temperature before using to fill the bottom pie crust.

Roll the first dough round into a 12 inch round and place in the bottom of a 10 inch pie plate. Push the dough into the corners and ensure that it is not stretched at all or it will shrink from the edge.

Trim dough to edge of plate. Add the cooled apple pie filling.

Roll the remaining dough round into 12 inch square-ish shape and cut that into 8 or 10 equal strips for the lattice crust top.

Place the remaining pastry strips on top of the apple pie filling, interweaving them to form a simple lattice pattern.

Press the ends of the strips into the edge of the bottom crust and trim the excess with a sharp knife.

Brush the edges of the crust and the lattice top with an eggwash made by whisking together the egg yolk and water.

Sprinkle the lattice top with turbinado sugar if desired.

Chill the pie in the fridge for about 20 minutes to a half hour before placing it on a cookie sheet (to catch any drips from the filling) in a preheated 400 degree F oven. Bottom rack is best.

Bake for 20 minutes at that temperature then reduce heat to 350 degrees F and bake for an additional 30- 35 minutes or until the crust is an even golden brown. The filling need not bubble for this pie to be done.

Allow to cool on a wire rack at room temperature for at least a couple of hours before serving.

NOTE: If your lattice crust edges begin to get too brown wrap them with aluminum foil for the last of the baking time.

Rock Recipes a participant in the Amazon Services LLC Associates Program, an affiliate advertising program designed to provide a means for us to earn fees by linking to Amazon.com and affiliated sites. Our product recommendations are almost exclusively for those we currently use or have used in the past.