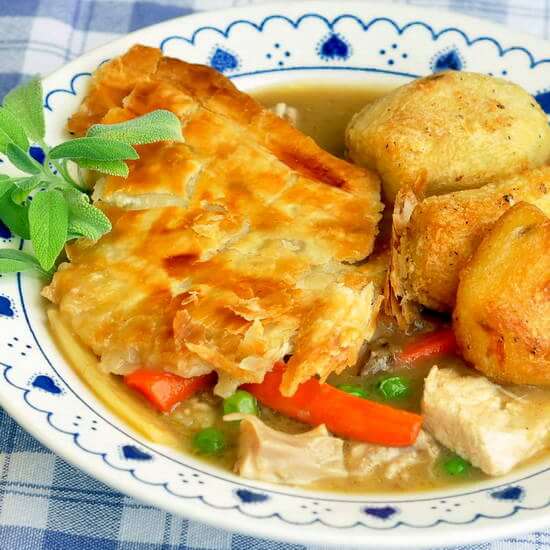 Easy Turkey Pot Pie
Today's recipe is a leftover legend. This great pot pie, aside form the readily available frozen puff pastry on top, was completely composed of leftovers from a turkey and roasted vegetable dinner what we had the night before. If you don't have leftover turkey, one of those supermarket rotisserie chickens is another quick shortcut to making a great chicken pot pie too.
As with many comfort food meals at our house, we serve roasted potatoes on the side rather than, in this case, adding plain potatoes to the pie. You can find the recipe for those here: http://rockrecipes.blogspot.com/2010/02/perfect-roast-potato.html

Serves 4 -6

1 to 2 pounds of leftover roast turkey cut in small pieces
3 to 4 cups turkey gravy
2 cups roasted carrot and parsnip pieces
1 cup frozen green peas
1 tbsp dry savoury
1/2 tsp black pepper
4 to six cloves roasted garlic, mashed into a paste and added to the gravy
1 sheet frozen puff pastry

If you don't have leftover roasted vegetables, simply place parsnip and carrot pieces in a glass casserole dish, toss with

salt
pepper
2 tbsp olive oil
several cloves garlic, still in the skins

Roast at 375 degrees F for 25-30 minutes or until the veggies are fork tender. Remove form oven and allow to cool completely.

To the casserole dish with the roasted vegetables, add the leftover turkey pieces, pepper, savoury, green peas, and cover everything with cold gravy. Roll out a sheet of puff pastry to the size of the casserole dish and place over the surface. Brush the top of the pastry with an egg wash and pierce the pastry in several places with the tip of a sharp knife.
It is best to prepare this dish cold so that the puff pastry will bake properly. In particular the gravy that is used just under the pastry should come straight from the fridge.

Bake at 375 degrees F for about 25 minutes to a half hour or until the pastry is evenly golden brown and the filling is bubbling underneath. Serve with roasted potatoes on the side.