Print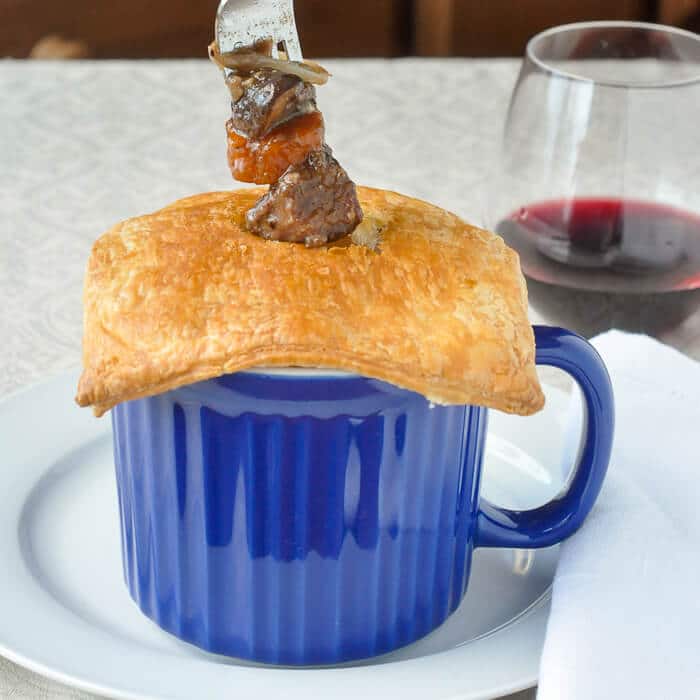 Chocolate Orange Mug Cake
Chocolate Orange Mug Cake - a dark chocolate cake soaked in a little orange liqueur and layered with whipped chocolate orange ganache, then topped with whipped cream.
For the Chocolate Orange Ganache Filling
1 1/2

cups

dark chocolate chips

I use 50% cocoa chips

1/3

cup

whipping cream

zest of 1 orange

finely minced

1 1/2

cups

whipping cream

whipped to soft peaks
For the Vanilla Whipped Cream
You will also need
3-4

ounces

orange liqueur

optional
o prepare the cakes
Preheat oven to 325 degrees F.

Grease the insides of 3 meal mugs with butter and dust with flour. Circles of parchment paper in the bottom help with easy release when baked.

Combine all ingredients in a mixing bowl and beat with electric mixer for 2 minutes.

Pour evenly into the prepared meal mugs. place the mugs on a cookie sheet

Bake at 325 degrees F for 30-35 minutes or until a wooden toothpick inserted in the center comes out clean. Cool in mugs for 20 minutes before turning out onto a wire rack to cool completely.
For the Chocolate Orange Ganache Filling
In a small saucepan over low heat, heat the 1/3 cup whipping cream and orange zest until hot.

Add the chocolate chips and stir constantly, just until the chocolate is melted. You just want the chocolate to be at the melting point and just lukewarm. Be careful not to let the chocolate overheat, transfer it to a bowl so that it is not in contact with the heat of the bottom of the saucepan.

Whip the 1 1/2 cups whipping cream to soft peaks.

Gently fold the melted chocolate through he whipped cream until completely combined.
For the Vanilla Whipped Cream
Combine the additional 1 cup of whipping cream, 1/2 tsp vanilla and 2 tbsp icing sugar. The icing sugar is important because the small amount of cornstarch in it really helps to stabilize the cream.

Whip to firm peaks.
To assemble the mug cakes
Cut each of the cooled mug cakes into 3 separate layers.

Place one layer of cake in the bottom of each meal mug. Sprinkle each one with a little orange liqueur; 2 tsp or so.

Take half of the chocolate mixture and divide it evenly between the 3 mugs, spreading it evenly over the cake.

Add another layer of cake, sprinkle on a little orange liqueur , another layer of chocolate mixture, another sprinkle of orange liqueur, the last layer of cake and the final sprinkle of orange liqueur.

Finally top with the vanilla whipped cream and a few shavings of grated chocolate to garnish.

Chill until ready to serve.