Easy Beef Bourguignonne Pot Pie in Corningware Meal Mugs – plus 2 other meal mug recipes; a microwaved smoked cheddar fondue and a chocolate orange mug cake!
I do love a creative challenge in the kitchen and this Beef Bourgiugnonne Pot Pie was part of a pretty interesting one when I was asked by Corningware to throw a dinner party. The catch? All the course preparations had to make use of Corningware's Meal Mugs!
At first I thought it was a silly idea but the Meal Mugs are so versatile, my mind had set a menu within minutes. Not only that, but when our dinner guests had left that evening, Spouse turned to me and said, "I think that was one of the easiest dinner parties we've ever served"…and we've served quite a number.
She was right though. Lots of things were prepared in advance, so there was little or no work in the kitchen on the evening we held our dinner. We served a microwaved smoked cheddar fondue as an appetizer course, the beef bourgiugnonne pot pie with roasted potatoes as the main, and a chocolate orange mug cake as dessert. The Beef Bourguignonne was slow cooked in the mugs and even the cake was baked in the mugs!
Our friend Ellen's birthday dinner provided the opportunity to put the Meal Mugs and my ingenuity to the test. She and her newlywed husband Max were flying out to their Honeymoon in Vegas the next morning, so a casual, relaxed dinner was the perfect way to send them off with our best wishes.
Here in Newfoundland, a quick casual meal or a tea break with a snack, is known as a "Mug Up". This casual dinner took an everyday "Mug Up" to the next level; …and so did the mugs!
I could think of numerous ways to use these mugs and I think they would be especially ideal for small batch cooking for singles or couples as easy as 1, 2, 3. Their 20 ounce size is ample for soups and stews or as a very large coffee mug on those mornings when you REALLY need one. Some steaming hot chocolate to curl up with a book at this time of year would be ideal in this mug.
I love my microwaved oatmeal in the mornings and this mug is great for that. The mug's vented lid allows steam to escape, keeping your microwave clean and you safe from steam burns.
Our guests loved the Beef Bourguignonne Pot Pie and all the courses we served up. The sharable chocolate orange mug cake was a particular hit and I can see lots of possible ideas to use these for sharable desserts for romantic dinners or on Valentines Day. Our friends were also delighted that Corningware provided a set for each of the couples to take home after the party. What's a birthday party without loot bags anyway? …no matter what your age.
Before we get to the recipes, here are a few key features of Corningware Meal Mugs:
Made of a durable stoneware material

Dishwasher, refrigerator, freezer, microwave & pre-heated oven safe (Always preheat oven when using any stoneware to prevent uneven heating & potential damage)

Surface does not absorb food, doors, flavours or stains like some plastics.

Patented design vented lids are BPA free, microwave & top-rack dishwasher safe. Plastic lids can be used in the microwave but obviously not the oven.
For more information on Corningware Meal Mugs, please visit the Corningware Website.
Here are some Canadian retailers that carry the Meal Mugs:
First came our appetizer which we served with drinks before dinner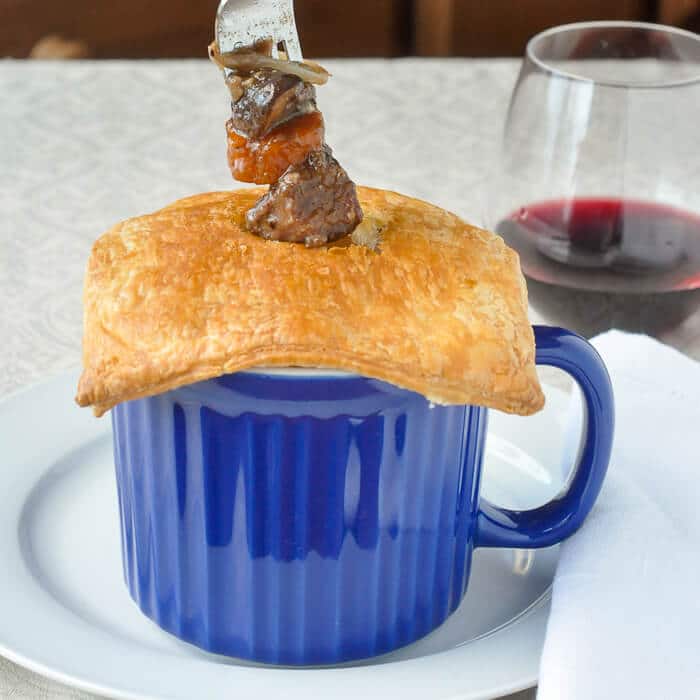 Microwave Smoked Cheddar Fondue
Microwave Smoked Cheddar Fondue - make this easy fondue in mere minutes. perfect for Holiday entertaining.
Servings
:
6
as an appetizer
Ingredients
1 1/2

Tbsp

flour

1/2

tsp

smoked paprika

or regular paprika

pinch salt and pepper

8

oz

smoked cheddar

grated

1/2

tsp

dry thyme

1

clove

finely minced garlic

1/2

cup

dry white wine
Instructions
Mix together the flour, paprika, salt and pepper.

Toss this mixture with the grated cheese to evenly coat the strands of cheese.

Add the white wine, garlic and thyme to the meal mug. Microwave for 30-60 seconds or until the wine is close to boiling.

Add the these mixture and stir gently.

Microwave at 15-30 second intervals on medium high power. stirring after each interval. It is best to do this slowly to keep the cheese from hardening around the edges if microwaved for too long.

Repeat until the fondue is piping hot and quite smooth.

Serve with fresh or toasted pieces of baguette or other crusty artisan bread.
Then came the main course which we served with roasted potatoes.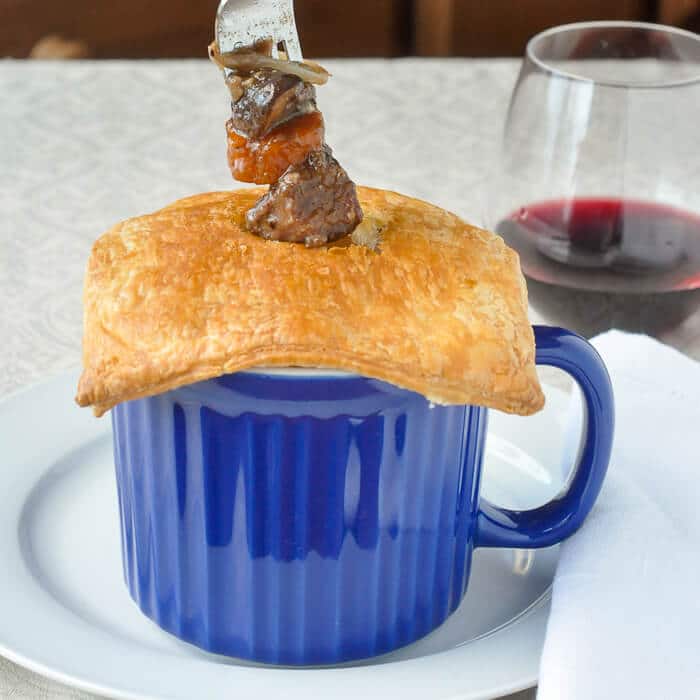 Beef Bourguignonne Pot Pie
Easy Beef Bourguignonne Pot Pie in Corningware Meal Mugs - tender beef & mushroom stew in rich red wine gravy topped by a store bought puff pastry lid.
Ingredients
6

in

strips smoked bacon

cut small pieces

2 1/2

lb

to 3 beef roast

cross rib works well

salt and pepper to season

1/4

cup

flour

1 1/2

cups

burgundy wine or other dry red wine

3

cloves

finely chopped

1

large onion

roughly chopped

3-4

large carrots

cut into chunks

3

leaves

large bay

cut in half.

1

tsp

or so nutmeg

2

tsp

or so of dried thyme

2-3

cups

low sodium beef stock

2 1/2

cups

cremini or button mushrooms

quartered.

1

pkg

2 sheets, frozen puff pastry, thawed
Instructions
Preheat the oven to 300 degrees F (Very important.)

In a cast iron frying an over medium heat, crisp cook the bacon and set it aside. Leave the fat in the pan.

Cut the beef roast in small cubes, 3/4 to an inch.

Season the beef cubes with salt and pepper and toss in the flour until all of the flour has coated the beef.

Brown the beef cubes in the bacon fat over medium high heat.

Share the beef cubes and crisp bacon evenly among 6 meal mugs.

Drain off the excess fat from the cast iron pan and deglaze the pan with the red wine. To do this return the pan to the stove over medium heat, add the red wine and using a wooden scraper or egg turner, scrape all of the flavourful bits off the bottom of the pan and into the red wine..

Share the deglazed pan contents evenly among the 6 meal mugs.

Share the carrots, onions and garlic among the 6 meal mugs.

Add 1/2 a bay leaf to each meal mug.

Add a pinch of salt and pepper to each mug along with a pinch of nutmeg and thyme. Give the contents of the mug a good stir to combine.

At this point you can add extra carrots and onions to fill the mugs to about 3/4 full if they are not already.

Top the mugs up to just under 3/4 full with the beef stock. It is ok to add extra beef stock during the cooking time if need be. It will reduce in the cooking time.

Cover the tops of the meal mug tightly with aluminum foil. Place the mugs on a cookie sheet and place in the oven for about 2 1/2 hours.

Check on the contents of the cups every hour or so and add additional beef stock if necessary.

In the last hour or so of cooking add the mushrooms to the cups.

The Bourguignonne is cooked when the beef is fall apart tender.

Remove from the oven, remove the foil and let the mugs cool for 15 minutes or so.

Increase the heat to 400 degrees F while the mugs are cooling off a little.

To finish the pot pies, brush a little egg wash around the mugs and place a square of puff pastry over each. Quickly get them back into the oven and let them bake for an additional 15 minutes or until the pastry is golden brown. (See alternative make-ahead method in notes.)

Serve immediately.
Recipe Notes
Recipe Notes
The flour coating the beef pieces is what thickens the gravy. be sure to use all of it.
An alternative to baking the pastry lids for the pot pies is to make them in advance and then top the pies when serving. To do this, preheat the oven to 400 degrees. (very important) Wrap the tops of the mugs tightly with aluminum foil and lightly brush the foil with melted butter. Carefully lay the pastry squares on top of the aluminum foil. Place the mugs on a cookie sheet. Bake for 15 minutes or until golden brown. Let the mugs cool for a few minutes before removing the foil from the baked pastry lids and laying the baked pastry tops on a wire rack. they can always be warmed in the oven for just a few minutes before serving.
..And last but not least, a sharable mug cake for dessert!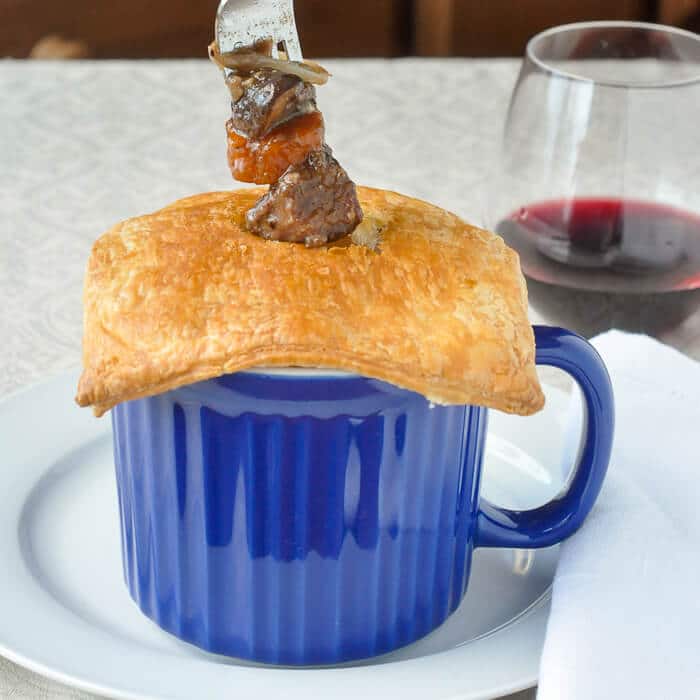 Chocolate Orange Mug Cake
Chocolate Orange Mug Cake - a dark chocolate cake soaked in a little orange liqueur and layered with whipped chocolate orange ganache, then topped with whipped cream.
Ingredients
For the chocolate cake
1

cup

sugar

1

cup

all purpose flour

1/3

cup

plus 1 Tbsp cocoa

1

tsp

. baking powder

1/2

tsp

baking soda

pinch salt

1

egg

1/2

cup

soured milk

just add a tsp lemon juice or vinegar to milk and stir

1/2

cup

brewed black coffee

1/4

cup

vegetable oil

1/2

tsp

vanilla extract
For the Chocolate Orange Ganache Filling
1 1/2

cups

dark chocolate chips

I use 50% cocoa chips

1/3

cup

whipping cream

zest of 1 orange

finely minced

1 1/2

cups

whipping cream

whipped to soft peaks
For the Vanilla Whipped Cream
1

cup

additional whipping cream

1/2

tsp

vanilla

2

tbsp

icing sugar

powdered sugar
You will also need
3-4

ounces

orange liqueur

optional
Instructions
o prepare the cakes
Preheat oven to 325 degrees F.

Grease the insides of 3 meal mugs with butter and dust with flour. Circles of parchment paper in the bottom help with easy release when baked.

Combine all ingredients in a mixing bowl and beat with electric mixer for 2 minutes.

Pour evenly into the prepared meal mugs. place the mugs on a cookie sheet

Bake at 325 degrees F for 30-35 minutes or until a wooden toothpick inserted in the center comes out clean. Cool in mugs for 20 minutes before turning out onto a wire rack to cool completely.
For the Chocolate Orange Ganache Filling
In a small saucepan over low heat, heat the 1/3 cup whipping cream and orange zest until hot.

Add the chocolate chips and stir constantly, just until the chocolate is melted. You just want the chocolate to be at the melting point and just lukewarm. Be careful not to let the chocolate overheat, transfer it to a bowl so that it is not in contact with the heat of the bottom of the saucepan.

Whip the 1 1/2 cups whipping cream to soft peaks.

Gently fold the melted chocolate through he whipped cream until completely combined.
For the Vanilla Whipped Cream
Combine the additional 1 cup of whipping cream, 1/2 tsp vanilla and 2 tbsp icing sugar. The icing sugar is important because the small amount of cornstarch in it really helps to stabilize the cream.

Whip to firm peaks.
To assemble the mug cakes
Cut each of the cooled mug cakes into 3 separate layers.

Place one layer of cake in the bottom of each meal mug. Sprinkle each one with a little orange liqueur; 2 tsp or so.

Take half of the chocolate mixture and divide it evenly between the 3 mugs, spreading it evenly over the cake.

Add another layer of cake, sprinkle on a little orange liqueur , another layer of chocolate mixture, another sprinkle of orange liqueur, the last layer of cake and the final sprinkle of orange liqueur.

Finally top with the vanilla whipped cream and a few shavings of grated chocolate to garnish.

Chill until ready to serve.
Rock Recipes is very pleased to have Corningware as sponsor of this recipe post. Both product and compensation were provided in exchange for this recipe post. The opinions expressed are based upon my experience and are entirely my own.