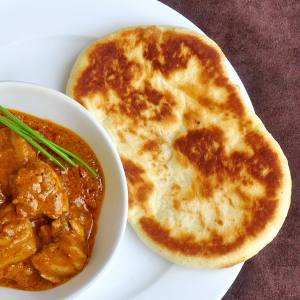 This is a basic plain naan recipe to which you can add other ingredients to make different versions. Some common additions are herbs, onions, garlic and even minced lamb or nuts and raisins.
Makes about 10 naan
1 envelope regular yeast
1 cup lukewarm water
1/4 cup + 1 teaspoon sugar
3/4 cup milk
1 beaten egg
2 teaspoons salt
4 cups bread flour (approximately)
1/4 cup melted butter
Dissolve 1 teaspoon sugar in 1 cup water and sprinkle the yeast over the surface. set aside for about 10 minutes until the yeast gets foamy.
Mix together 3 cups of the flour with the risen yeast and all of the remaining ingredients. Knead in enough flour to make a soft dough and continue to knead for 5 minutes after that. Cover and let rise in a warm, draft free spot for about an hour or so until the dough is at least double in size.
Knead the dough again for a few minutes before shaping the dough into golf ball sized pieces. Cover and let these rise for an additional 1/2 hour to 45 minutes.
Heat a cast iron skillet or flat grill over medium heat. An electric pancake grill on high setting also works well. Roll the dough balls out to about 6 inch circles and cook each one in the unoiled skillet for a couple of minutes on each side until completely cooked through and lightly browned. You can brush them with butter as they come off the grill if you like. Hold the warm naan in a 150 degree oven as you cook the remaining flat breads.