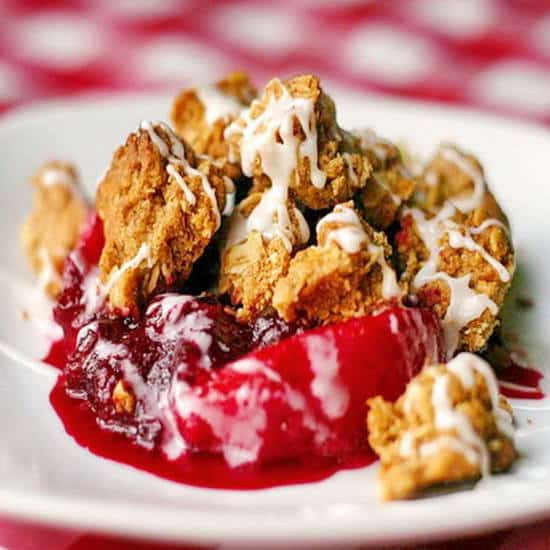 This is a non traditional method for a crumble, in that the fruit and the crumble are prepared separately. This allows for a crunchy crumble texture and consistency throughout the dessert.
It is also a very convenient and versatile recipe, especially for those who make their own jams and preserves. Store any of the leftover crumble in an airtight container in the freezer and easily reheat it on a cookie sheet in 5 minutes in a hot oven while you warm your fruit preserves on the stove top or in the microwave. You can substitute your favorite jam for the partridgeberry apple compote.
For the crumble:
In a large bowl toss together:
1 tsp baking powder
1 cups rolled oats (large)
1/3 cup ground almonds
1 cup flour
½ cup brown sugar
Using your hands rub thoroughly through the dry ingredients:
¾ cup butter, cut in small cubes
Press crumble together in handfuls then break apart into bite size pieces onto a cookie sheet in a single layer. Bake at 375 degrees F for 25 minutes.
For the Partridgeberry Apple Compote:
In a small saucepan, gently boil together for 20 minutes
1 ½ cups partridgeberries
½ cup sugar
During the last 5 minutes add
2 medium sized apples cut in thick wedges
For the Vanilla Glaze:
1 cup icing sugar
½ tsp vanilla extract
A few drops of milk, enough to bring the glaze to a thick pourable consistency.
Assemble the dessert by layering the crumble over the fruit compote in individual serving dishes and drizzle with the vanilla glaze.