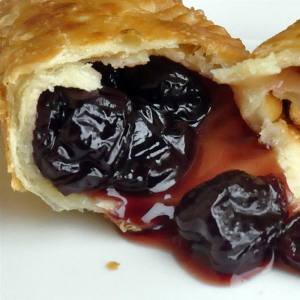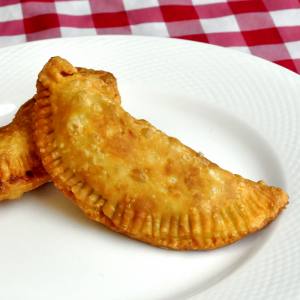 The first time I had a fried pie was many years ago at a county fair in Vermont as I was making my way back from southern Ontario during a bit of a meandering road trip. I remember buying some amazing smoked ribs from a burly biker type with a southern drawl, who was one of the many BBQ vendors there. As I was digging into my ribs, I watched the biker's Mom in the next stall constantly dropping little pastry packets into hot oil while trying to simultaneously serve the line of about 20 people, queued up to purchase what turned out to be some very delicious fried pies. Her specialties were cherry, apple and peach and each one was absolutely delicious.
With fresh cherries in the stores this week, I was reminded of these delicious little fried nuggets and set out to find a decent recipe for fried pies. Online opinions, recipes and reviews were a bit of a minefield but I finally settled on a combination of 2 recipes for the dough that worked out quite well and surprisingly did not absorb a lot of oil in the frying process yet was still flaky and crispy on the outside. Real fruit fillings are a must for these and I've promised number one son that fried peach pies will be the next filling once the best of the summer Niagara peaches become available.
Fried Pie Dough
1 cup milk
1 egg
2 tsp vanilla extract
4 cups flour
1 cup cold vegetable shortening, cut in cubes
1 tsp salt
Whisk together the egg milk and vanilla and set aside. Mix together the salt and flour and cut in the cold shortening until crumbly. Fold in the wet ingredients just until a dough forms. Don't over work the pastry dough or it will become tough. Divide dough in half, form each one into 6 inch rounds, wrap in plastic wrap and chill for at least 1/2 hour. Roll dough out to 1/8 inch thickness (careful not to make the dough too thick or it will not cook properly). Cut 6 inch circles out of the rolled out dough and pace a tablespoon or two of fruit filling. Fold the dough over the filling being careful to keep the outside edges of the dough clean. Press the edges of the dough together firmly using a fork to seal.
Heat canola oil in a deep fryer to about 325-350 degrees F. Higher heat will cause them to brown too quickly. Fry for about 4 minutes or until evenly golden brown. Drain on paper towels and allow to cool for a few minutes before serving. Dust with powdered sugar if desired.
Sauteed Five Spice Apple Filling
2 Granny Smith Apples diced
1/4 tsp Five Spice Powder
1 tbsp butter
3 tbsp honey
Saute the diced apples in the butter for a few minutes along with the honey and five spice. Cook until the apples are glazed in the reduced honey. Cool completely.
Cherry Filling
2 cups fresh pitted cherries
1/2 cup brown sugar
1/2 tsp cinnamon
3 tbsp lemon juice
Simmer all together for about 20-30 minutes or until the juice released from the cherries is reduced by about half. Thicken the filling with a slurry of 2 tablespoons corn starch dissolved in a little cold water. Use only as much of the slurry as necessary to thicken the cherry filling.