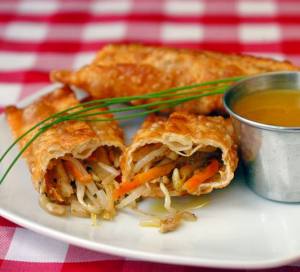 Simmer together for about 20 minutes
2 cups orange juice
1 tbsp grated fresh ginger root
½ cup brown sugar
¼ tsp salt
¼ tsp pepper
1 clove minced garlic
Zest of one orange
After simmering together for 20 minutes, strain the liquid through a sieve and return the liquid to the pot and the pot to the burner. Thicken the sauce by whisking into the gently boiling liquid, a slurry of 1 tbsp corn starch mixed with 1-2 ounces orange juice. Use enough of the slurry to thicken to a sauce; use more or less as necessary to bring the sauce to the proper consistency.