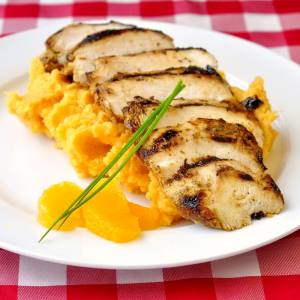 Roasted Sweet Potato Mash
( Find the recipe for Orange and Five Spice Grilled Chicken here:
I thought that I had previously posted this recipe but after receiving several messages yesterday when I featured this great side dish with some awesome grilled chicken, it seems a lot of folks are looking for it. A great combination of roasted sweet potatoes and white potatoes, we love to serve these potatoes with many things from roasted chicken or pork loin to grilled salmon. I do love just a little hint of fragrant spice in this side dish but you can omit it if you choose. This one will quickly become an old stand-by.
2 lbs russet potatoes
2 lbs sweet potatoes
6 cloves roasted garlic
3 tbsp butter
1/4 cup heavy cream
salt and pepper to taste
1/2 tsp chinese five spice or cinnamon (optional)
Wash the sweet potatoes and russet potatoes and roast them in their skins in a 350 degree oven for about an hour or until all of the potatoes are fork tender. Place garlic cloves in an aluminum foil packet with a teaspoon of olive oil and roast in the oven along with the sweet potatoes and russet potatoes.
Scoop the russet and sweet potatoes out of their skins. Add the roasted garlic that has been removed from their skins and mash together well. Add the butter and cream (and five spice or cinnamon if desired) and mix until smooth. Season to taste with salt and serve immediately.