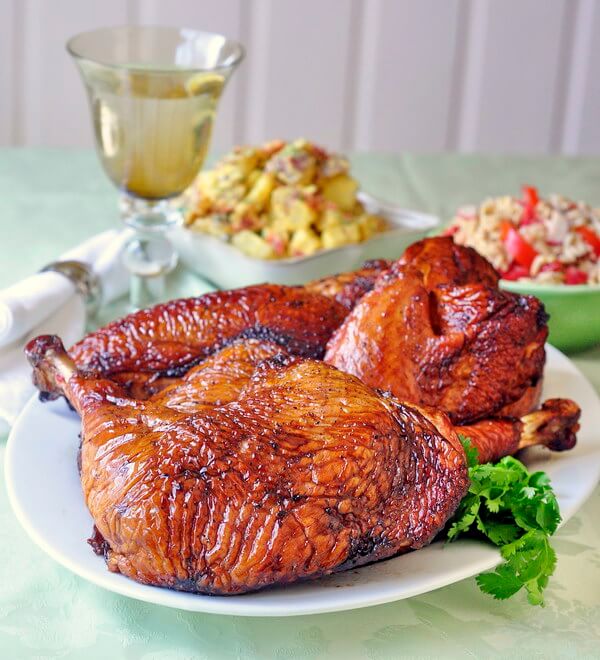 Simple Brined Smoked Turkey
Some things need no over-complication. We are huge turkey fans at our house and a roasted turkey dinner would probably be our favorite family meal. Most often we do nothing but a straight forward roasting of the bird and serve with gravy, veggies and English-style roasted potatoes. As the weather begins to warm up around here, though, I begin to think of picnic foods to take along on any number of scenic day trips around our end of the island. A couple of bags of ice become a necessity in the downstairs freezer to be ready at a moments notice to pop into our insulated picnic cooler which can get filled with great green salad, pasta salad, potato salad, and whipped cream for our favorite picnic dessert, Chocolate Strawberry Shortcake.
Along with all those great offerings, delicious cold cuts like leftovers from our Dijon Mustard and Brown Sugar Glazed Ham or my ultimate picnic cold cut, smoked turkey, also get added. This is a terrific weekend cooking idea, not only to serve your freshly smoked turkey as dinner but to have leftovers to make delicious smoked turkey sandwiches during the week. You can break down a whole turkey or just smoke parts like the breast, drumsticks or thighs. I like to brine the meat for 24 hours first to ensure that it says super succulent and juicy through the smoking process. I like the brine in this recipe because it infuses hints of citrus and spice into the meat which adds to the complexity of flavor when mixed with the smoke. If you are using your gas grill to barbeque/smoke your turkey, place the meat on one side of the grill and use the burner or burners on the opposite side so that it is not directly over heat. Regulate the gas to keep the temperature at about 300-325 degrees for slow barbequed flavor. The same technique can also be used with a charcoal grill, just keep the charcoal on one side and the meat on the opposite side.
You can add smoke flavor by soaking hardwood chips like mesquite, apple, cherry or hickory in warm water for about a half hour. A couple of handfuls will do. Wrap the soaked wood chips in a double layer of heavy duty aluminum foil and poke only two holes in the foil, one at either end to allow the smoke to escape. I place the foil packets in a vegetable grill pan so that the packet is not sitting directly on the gas burner. You can add more soaked wood chip packets as they burn out, it all depends on how much smoke favor you wish to add. Two or 3 of these packets should be enough for turkey, you don't want it to take on too much smoke flavor and interfere with the flavor of the meat.
Brine Mixture
6 quarts or liters of water (A little more if needed to cover the turkey completely)
1/3 cup table salt
1/2 cup sugar
1/4 cup honey
Stir well to completely dissolve the sugar and salt and then add:
8 whole cloves
1 large sliced onion
3 cloves garlic sliced thin
zest and juice of two large oranges
3 tbsp whole black peppercorns
Wash the turkey well and completely submerge the turkey in the bucket of brine. A plate with a couple of heavy cans of tomatoes or beans placed over the turkey will help keep it submerged. Place in the refrigerator overnight or for at least 6 – 8 hours. I remove one of the shelves in the fridge to fit my bucket in.
After 24 hours drain the brine from the turkey, rinse and pat dry with paper towels. There is no need for extra seasoning of the meat once it has been brined. Place the meat on indirect heat on the opposite side of the grill as the charcoal or gas burners. Maintain the heat at around 300-325 degrees F adding the smoke packs about once an hour. Cook the turkey until it reaches and internal temperature of 170 degrees F on a meat thermometer.