Apricot & Brandy Fruitcake. A moist and delicious, easy to make fruitcake, that borrows some of the best elements of other cakes into a uniquely delicious collision of flavours.
The story behind this Apricot & Brandy Fruitcake is a familiar one at my house during the Holidays. Often, toward the end of the Christmas baking season, I'm forced to take inventory of all the ingredients that I've over-bought for Holiday baking and put them to good use.
These "cupboard cleaner cake" might as well be called the "Blame Costco Fruitcake"! Yes, those large packages of raisins, dates, glacé cherries, mixed fruit, dried coconut and different sorts of nuts are great value, but even a prolific baker like me is bound to end up with several things in surplus.
The very same thing happened with my Hazelnut Coconut Fruitcake and that worked out just fine indeed. This time my surplus centred around most of a large bag of dried apricots, another of raisins, a little mixed fruit and some glacé cherries.
I've written before about people's preference in fruitcakes. Growing up, my preference was for the darkest, most intensely spiced cake I could find. Others made fruitcakes that were not so dark at all, containing just a little molasses. I decided to make a middle-of-the-road fruitcake that took inspiration from a couple of quarters.
Like when I took the very popular Apricot Raisin Cake, and turned it into a light coloured, un-spiced Apricot Fruitcake, this recipe builds on the base recipe for my recently developed Rum Raisin Fruitcake. I was absolutely thrilled by the flavour and texture of that cake. It was as near to perfect a moist fruitcake as I had ever tried. I am usually pretty restrained with all the sweets around here, but I've found myself snagging little slices of that cake every day for the past week!
Dried apricots are, in the winter season, what peaches are in summer to me. I just love them. My mom is the same. We could polish off a bag of this nature's candy between us just snacking out of the package. I decided they would be the dominant fruit in this cake, but no need to boil them like other apricot cakes. They would get a soak in booze, just like the Rum Raisin Cake recipe.
Brandy was a natural choice to go with apricots and heck, I had some of that on hand too, so in it went! Like many other fruitcakes I make, I like to give them a little soak in spirits to help preserve them and enhance their flavour. The brandy was used for that purpose too, in this recipe.
To date, I have only sampled part of the slice in the photo here. The cake had only soaked in the brandy for two or 3 days and to me it was already amazingly delicious and moist. The texture of this cake is so perfect, it's ideal to bake in the last week before Christmas. I look forward to enjoying and sharing this one throughout the Holidays. I just know it will be a hit with my family and friends.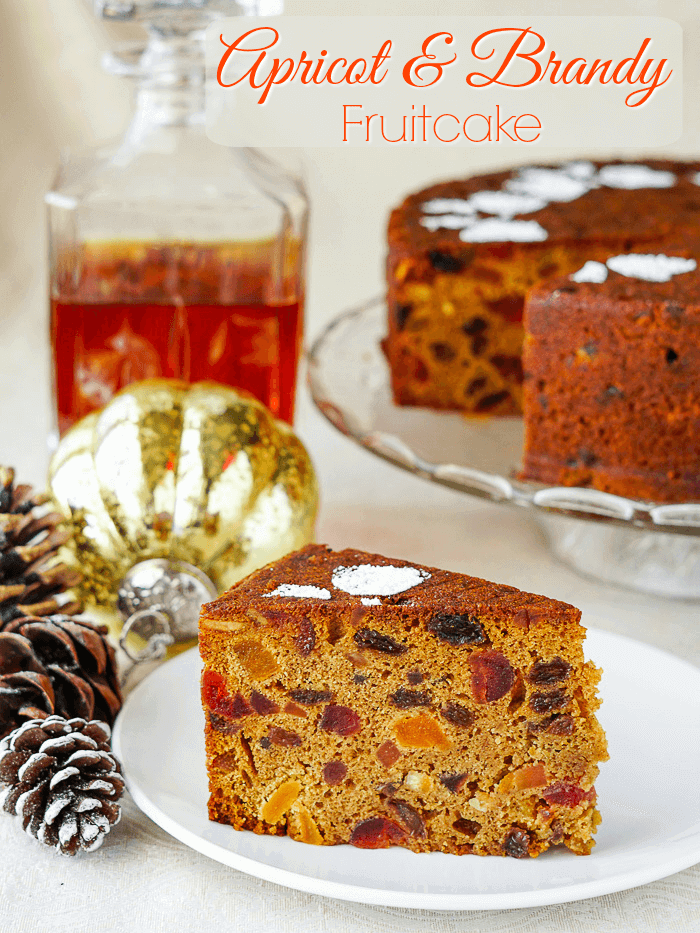 Like this Apricot & Brandy Fruitcake recipe?
If you're looking for other food gift ideas for the Holidays or just lots of seasonal recipe suggestions for both cooking and baking, be sure to browse our Christmas Recipes Category.
To keep up with the latest home style cooking & baking ideas from Rock Recipes plus daily recipe suggestions from decadent desserts to quick delicious weekday meals, be sure to follow Rock Recipes Facebook Page and follow us on Instagram Instagram.
If you like this recipe, be sure to check out our entire collection of Favourite Newfoundland Christmas Cakes here.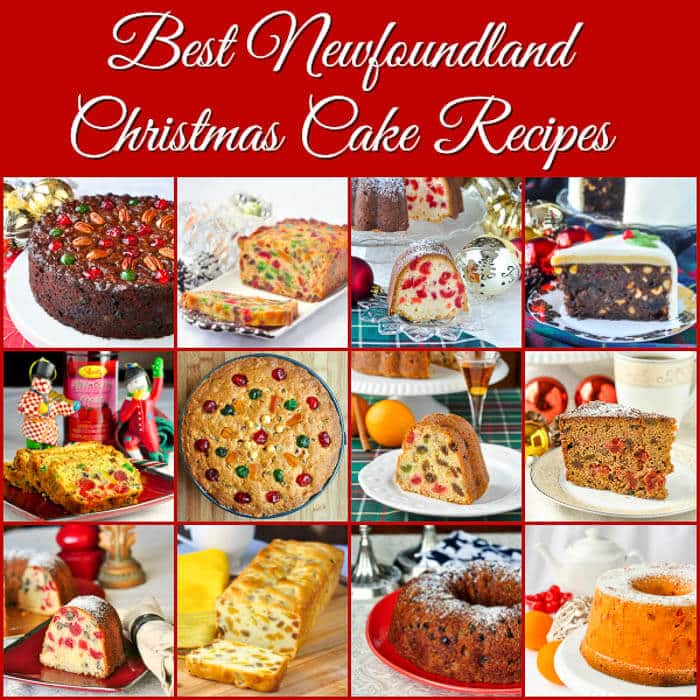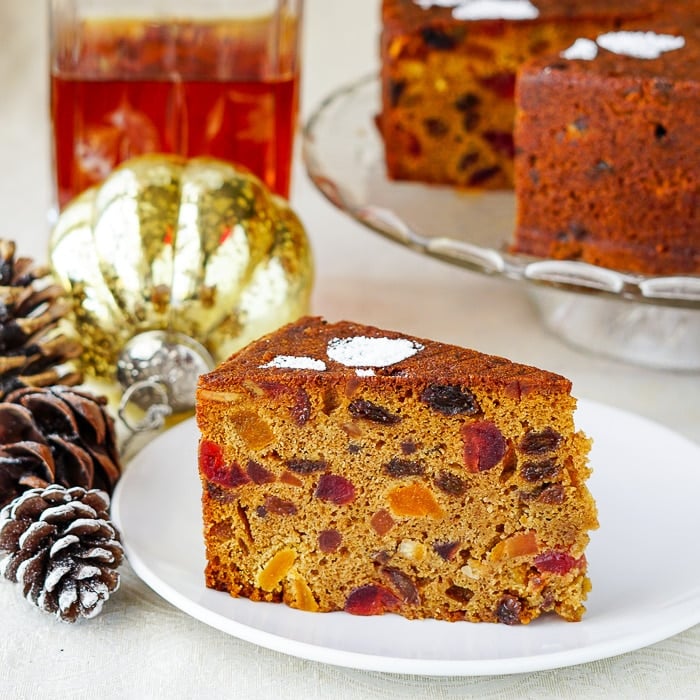 Apricot & Brandy Fruitcake
Apricot & Brandy Fruitcake. A moist and delicious, easy to make fruitcake, that borrows some of the best elements of other cakes into a uniquely delicious collision of flavours.
Servings
:
40
or more servings
Ingredients
1 1/2 

cups

sultana or golden raisins

1 1/2 

cups

chopped dried apricots

1

cup

chopped glacé cherries

1

cup

mixed glacé fruit or candied mixed citrus peel

1

cup

brandy

If making a no alcohol version use white grape juice or apple juice

3 1/4

cups

all purpose flour

1/2

tsp

baking powder

1/2

tsp

baking soda

2

tsp

powdered ginger

1

tsp

cinnamon

1

tsp

nutmeg

1

tsp

allspice

1/4

tsp

ground cloves

1

cup

butter

2

cups

light brown sugar

6

eggs

1/4

cup

fancy molasses

1/2

cup

additional brandy if you do the additional brandy soak.
Instructions
This recipe starts 24 hours in advance with the soaking of the fruit in the brandy. I soak the fruit in a shallow airtight glass or plastic container. Stirring them several times during the day. After 24 hours the fruit should have soaked up practically all of the rum. You can do this days or weeks in advance if you want. It makes no difference as long as the fruit is stored in an airtight container.

Grease a 10 inch springform pan well and line it with parchment paper. Preheat oven to 300 degrees F.

Sift together the flour, salt, baking powder, baking soda, and all of the spices. Set aside.

Cream the butter and brown sugar until light and fluffy.

Beat in the eggs, one at a time, beating well after each addition.

Next blend in the molasses until well combined.

Fold in 3 /4 of the dry ingredients mixture, until almost incorporated. A few streaks of flour should remain, so that it isn't over mixed.

Add the soaked fruit and any remaining brandy. There should be very little if any left.

Fold the fruit for several turns before adding the last of the dry ingredient mixture. Fold until the batter is smooth.

Add the batter to the prepared pan, spread evenly and bake for 2 hours or until a toothpick inserted into the centre comes out clean. Test it with a clean wooden toothpick at two or three points near the centre to be absolutely sure the cake is baked.

Let the cake cool in the pan for 20 minutes before releasing the sides of the pan and sliding the cake onto a wire cooling rack to cool to room temperature.

At this point you can poke small holes in the top and bottom of the cake with a fork and pour on 4 ounces of dark rum or your favorite whiskey, half on the top, wait ten minutes, then flip it over and pour the remaining half on the bottom.

Soak several layers of cheesecloth in additional rum if you like and wrap completely around the cake, then cover with several layers of plastic wrap and store in a COOL place.
Recipe Notes
This recipe can easily be made non alcoholic by using the suggested substitution of grape juice or apple juice to soak the fruit. The cake would not be soaked in anything after baking. It still makes a very nice fruit cake with a very straight forward preparation method and with no need to boil the dried fruit.
The nutritional information provided is automatically calculated by third party software and is meant as a guideline only. Exact accuracy is not guaranteed. For recipes where all ingredients may not be used entirely, such as those with coatings on meats, or with sauces or dressings for example, calorie & nutritional values per serving will likely be somewhat lower than indicated.
Nutrition Facts
Apricot & Brandy Fruitcake
Amount Per Serving (1 serving)
Calories 211
Calories from Fat 45
% Daily Value*
Fat 5g8%
Cholesterol 36mg12%
Sodium 71mg3%
Potassium 171mg5%
Carbohydrates 34g11%
Protein 2g4%
Vitamin A 355IU7%
Vitamin C 0.2mg0%
Calcium 29mg3%
Iron 1mg6%
* Percent Daily Values are based on a 2000 calorie diet.

Rock Recipes a participant in the Amazon Services LLC Associates Program, an affiliate advertising program designed to provide a means for us to earn fees by linking to Amazon.com and affiliated sites. Our product recommendations are almost exclusively for those we currently use or have used in the past.