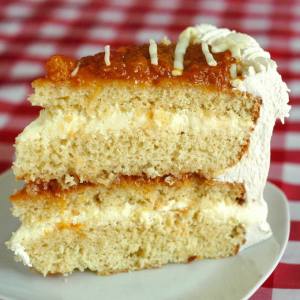 Begin by making a Golden Vanilla Cake
Cream well:
¾ cup butter
2 cups sugar
3 tsp vanilla extract
Add, one at a time
3 eggs
Beat well after each addition.
Sift together
1 cup + 1 tbsp all purpose flour
1 cup + 1 tbsp cake flour
1 ½ tsp baking powder
Fold the dry ingredients into the creamed mixture, alternately with
¾ cup whole milk
Beginning and ending with the dry ingredients.
Pour batter into two 9 inch cake pans that have been greased and floured and the bottoms lined with parchment paper. Bake for about 30 minutes at 350 degrees F or until a toothpick inserted in the center comes out clean. Cool completely on a wire rack.
White Chocolate Mousse
1 ¼ cups white chocolate chips
1 oz water
2 tablespoons butter (no subs)
3 egg yolks
3 tablespoons sugar
1 cup whipping cream
Whip your cream to soft peaks and chill in refrigerator.
Melt chocolate with butter on low heat, stirring until smooth.
Cool for 15 minutes.
In double boiler, whisk yolks, sugar and water.
Cook and stir over boiling water until mixture reaches 170 degrees F.
Remove from heat and whisk in the chocolate mixture. Place saucepan in a bowl of ice water and stir constantly until chocolate cools to about room temperature.
Gently fold in whipped cream.
Bakeapple Compote
3 cups fresh or frozen bakeapples
2/3 cup sugar
Boil together for about 20 minutes.
Vanilla Whipped Cream
3 cups whipping cream
2 tsp vanilla extract
¼ cup sugar
Whip together to firm peaks.
To assemble the cake, split the cake layers in half making 4 layers in total. Place the bottom layers in two 9 inch springform pans. Sprinkle each of the 4 layers of cake with
1 oz Amaretto Liqueur (optional)
Divide the mousse into 2 portions and spread evenly over the bottom cake layers. Top with the remaining 2 cake layers, cover the springform pans with plastic wrap or aluminum foil and chill for at least 2-3 hours or overnight.
When chilled, remove the cakes from the springform pans and place one on a serving plate. Using a piping bag or a large Ziploc bag with the corner snipped off, pipe a border of whipped cream around the top perimeter of the cake. Spread ½ of the bakeapple compote inside the whipped cream perimeter. Add the second chilled cake on top. Frost the sides of the cake with vanilla whipped cream. Pipe a border on top of the cake and fill inside the border with the remaining bakeapple compote. Garnish with some melted white chocolate of desired.