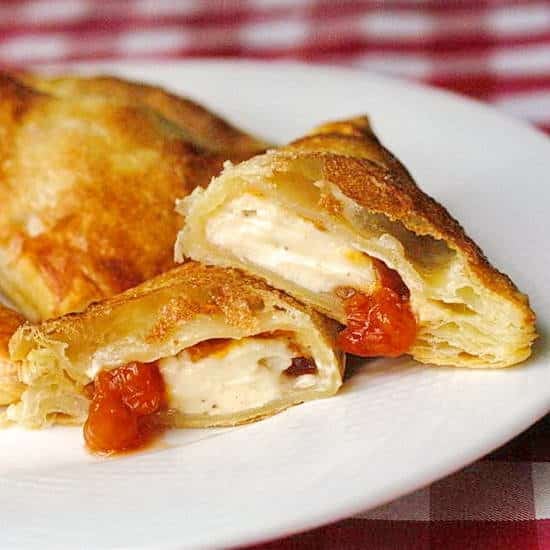 This is a great recipe to add to your weekend brunch menu. Assemble them the night before, cover with plastic wrap and put them straight from the fridge to a hot oven in the morning. Your guests won't soon forget these. This recipe works great with practically any favorite jam.
Makes 8 turnovers
One 1 pound package puff pastry
Bakeapple jam
4 ounces cream cheese
1/3 cup sifted icing sugar
Pinch nutmeg
½ tsp vanilla extract
I egg + 1 tbsp water whisked together for eggwash
3 tbsp sugar
You can use store bought bakeapple jam or simply make your own by boiling 1 cup bakeapples with 1/3 cup sugar.
Blend together cream cheese, icing sugar, vanilla extract and nutmeg until smooth.
Place puff pastry squares on a parchment lined baking sheet. Spoon about a tablespoon of cream cheese mixture in the center of each square along with a tablespoon of bakeapple jam.
Brush the edges of the pastry with the eggwash. Fold the corners of the pastry together to form triangles, gently pressing the edges together to seal.
Brush egg wash on the tops of the pastries and sprinkle with the sugar. Place pastries in the fridge for 2o minutes before popping the cookie sheet into a preheated 400 degree F oven for about 15 minutes or until the pastry is an even golden brown all over. Cool for at least 20 minutes and serve warm.