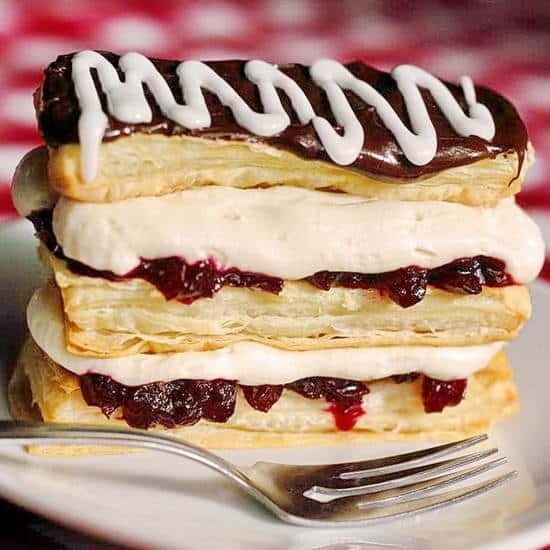 Don't panic! I'm not about to suggest that you make your own puff pastry! This recipe uses store bought frozen puff pastry which makes this more of a quick and easy recipe when you want an elegant dessert with minimal effort.
Makes 8 Napoleons
One 1 pound package frozen puff pastry
8 oz cream cheese, cut in small chunks
1 cup whipping cream
1 tsp vanilla extract
¾ cup sifted icing sugar
1 tablespoon Grand Marnier, brandy or rum (optional)
Partridgeberry jam
½ cup semi sweet chocolate chips, melted
Preheat oven to 400 degrees F.
First cut your sheet/sheets of puff pastry into 24 equal sized rectangles. Place about an inch apart on parchment lined baking sheet. Pastry should be as cold as possible before baking so if it has warmed up to room temperature, place cookie sheet in the refrigerator for 20 minutes before baking. Bake for about 12 minutes or until pastry is golden brown. Cool pastry completely before continuing.
For the Cream Cheese Filling
Whip cream to soft peaks. Add cream cheese slowly, beating continuously. Add sifted icing sugar beating well. Add vanilla and Grand Marnier and beat until smooth. Keep filling chilled until ready to use.
Vanilla Glaze
½ cup icing sugar
¼ tsp clear vanilla flavouring
A few drops of milk
Mix all together until smooth and thick but still of pourable consistency.
To Assemble the Napoleons:
Spread 8 of the pastry pieces with partridgeberry jam. Spoon or pipe cream cheese filling on top of the partridgeberry jam. Add another pastry layer and repeat. Cover bottoms of the remaining 8 pastry rectangles with the melted chocolate and place on the filled Napoleons, chocolate side up. Pipe tops with a swirl of vanilla glaze if desired. Keep chilled until ready to serve.