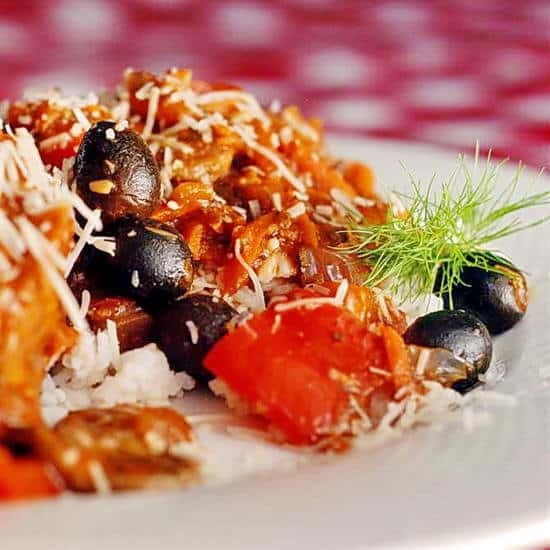 Some might consider this a 1970's throwback but this pot luck favourite still deserves a place in the supper menu rotation. Many think it's even better as leftovers.
Serves 4
1 whole chicken cut in 9 pieces
1 cup flour, seasoned with salt and pepper for dredging chicken
1 cup vegetable oil for frying
½ bulb roasted garlic chopped/mashed
1 cup sliced fresh button mushrooms
1 small red onion chopped
1 large carrot grated
1 cup whole black olives
1 large roasted red pepper cubed
1 cup chicken broth
1 cup white wine (or another cup chicken stock)
2 chopped tomatoes
1 tbsp brown sugar
One 14 ounce can plain tomato sauce
1/4 tsp cayenne pepper (optional) (or to taste)
salt and pepper to season
1 teaspoon dried oregano
1 teaspoon thyme
2 tbsp savoury
Heat vegetable oil in a heavy bottomed skillet. Place flour in a bowl and add 1 tsp salt and ½ tsp black pepper. Dip chicken pieces in seasoned flour and brown well on all sides. It is not necessary to completely cook the chicken at this point.
Do not crowd your pan, it is important to brown the chicken well, so do it in 2 batches if necessary. Set the chicken in a baking dish. Discard the vegetable oil used to brown the chicken.
Add all the remaining ingredients together and simmer for 10 minutes. Pour over chicken and bake at 350 degrees F for 45 minutes to an hour depending on the size of the chicken pieces until chicken is fully cooked and fork tender.
Serve over cooked rice, egg noodles or your favourite pasta.