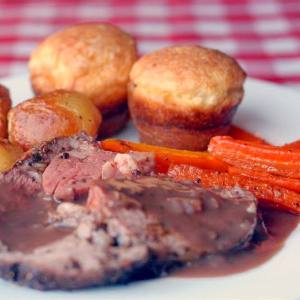 This is my favorite gravy recipe to accompany a prime rib roast and I've posted it here this morning at the request of a friend who sampled it for the first time a few weeks ago and raved about it. The recipe for the prime rib roast was featured last March on this blog and can be found here:
4 cups beef broth (or a combination of fat skimmed pan drippings and beef broth to make 4 cups)
1 cup burgundy wine
4 sprigs fresh thyme (or about 1 tsp dried ground thyme)
Simmer together uncovered for about 20-30 minutes until the volume of the liquid is reduced by about one third.
In a separate heavy bottomed saucepan add
¼ cup butter
¼ cup flour
½ tsp freshly ground black pepper
2 cloves minced garlic
Cook together stirring constantly for 2-3 minutes until foamy. Slowly and steadily whisk in the boiling broth mixture. Whisk quickly and steadily as you add the hot liquid to prevent lumps in the gravy. Season with salt to taste. Add a little more beef broth if you like thinner gravy.