Detailed Instructions for Making a Lighted Gingerbread House. Complete with recipe for the gingerbread walls and lots of details on how to plan and construct a beautiful Christmas tradition.
Originally published on November 11, 2008
Watch a construction video slideshow below of the most complex of the hoses that I have constructed so far, based upon a beautiful home in my neighbourhood.

I've received many requests for a gingerbread recipe and some detailed instructions for constructing a gingerbread house so I have decided to post them here. I've also added some more photos of other gingerbread houses from the past few years.
Here are a few links to construction slideshows of three of the houses as well:
Another Circular Road Christmas
The Original Circular Road Christmas
For more Christmas cooking and baking ideas, be sure to visit out Christmas Recipes Category.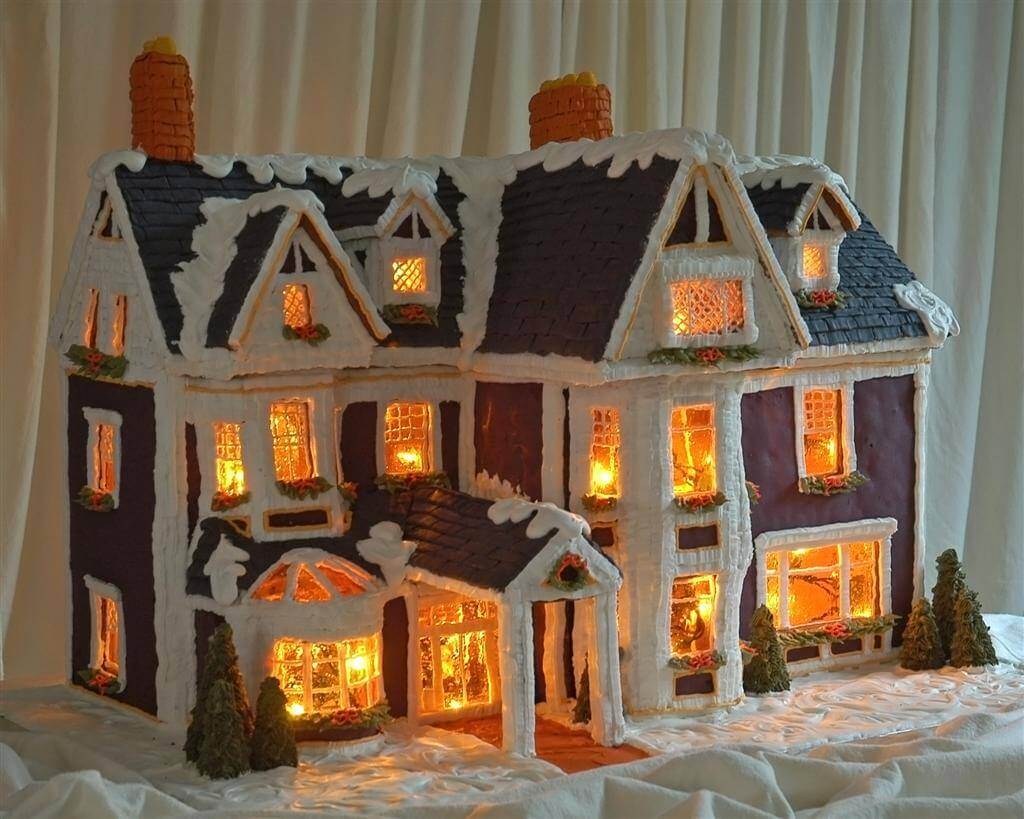 Detailed Instructions for making a Lighted Gingerbread House
Before starting the instructions for making a gingerbread house, a note on the gingerbread recipe: Unless you are planning to eat your house, it is a great idea to double or triple the amount of spices in your gingerbread dough.
The gentle heat from the lights in your house will create a very spicy and fragrant aroma in the room. Recipe follows the instructions.
Create templates from cardboard for gingerbread house walls and roof.

You can assemble the cardboard pieces with scotch tape to make sure everything is the correct size.

I

f you are making a particularly large house it is essential to make an additional side wall or two to be placed in the centre of the house to help carry the weight of the roof.

Use templates as a guide to cut the dough into the desired shapes.

Windows and doors can be cut out at this stage as well if you plan to

make candy windows for an internally lit house.

The back of the house

should be plain with a hole or holes large enough to insert a set of mini lights.




The number of lights depends on the size of your house. A set of 100 is usually enough for quite a large house.

Trim edges and windows as necessary while the gingerbread is still hot. Straight edges are a must.

Cool on the baking sheet or another completely flat surface.

Prepare the pieces for windows by placing them on cardboard covered in several layers of newspaper and several layers of plastic wrap.

The cardboard will protect your table or countertop from the hot liquid candy and be flexible enough to allow the windows to release from the surface once cooled.
Windows
In a heavy bottomed pot ( I use a triple layer copper core pot) gently boil:

3 cups white sugar with 1/2 cup water until it reaches hard crack stage.

Do not stir this mixture as it boils, this can cause crystallization of the sugar.

You can test the mixture by dropping a spoonful into very cold water to see if it hardens. I like to leave it until it begins to turn slightly golden as this creates sort of a candle glow effect when back lit.

Watch the pot constantly and take it off the heat at the first sign of golden color, as this liquid will burn very, very quickly past that point.

I take it off the heat when the first scent of caramel occurs and it is slightly golden. You can immerse the bottom of the pot in an ice bath for a few seconds to stop the color turning too dark if you like

Immediately, slowly and very carefully pour the hot liquid into the window cutouts and leave to cool completely.

Be very careful while pouring hot candy, you can sustain a very serious burn if you spill it on your skin.
It's best to keep the kids out of the kitchen for this part.
Note: High humidity can cause the windows in your house to dissolve and begin to "melt" and run down over the sides of your house.
The lights in your house will gently heat it from the inside out and prevent this from happening and they must be kept on as long as possible.
If your windows are sticky to the touch this indicates high humidity and you should leave the lights on longer. I usually leave mine on all day only turning mine off when I go to bed but your environment may be different.
You may even be able to keep your house for more than one Christmas by being conscious of this fact and storing it in a humidity controlled area.
Royal Icing
It is very important to use grease free utensils and glass or metal bowl when
making this icing.
This icing dries very hard and acts as the glue to hold your house together.
As the amount of egg whites varies with the size of your eggs, you will need to exercise some judgment when making this icing depending upon the intended use.
You can always add a little more icing sugar to make it as thick as possible when gluing your walls in place or conversely add a little egg white (a tablespoon at a time) to thin it out to "paint" your house.
To cover your roof in "snow", the consistency will be somewhere in the middle where soft peaks form but it does not run.
This one you have to learn by doing.
Royal Icing recipe
4 cups (440 grams) confectioners' (powdered or icing) sugar

3 large egg whites, room temperature

1/2 teaspoon cream of tartar

1 tablespoon water (if needed)

Whip all ingredients together until very stiff and fluffy, preferably with the whisk attachment if your mixer has one.
If you wish to "paint" your house, you can do so by outlining all the edges of your pieces in Royal Icing using a number 4 piping tip. This includes the entire perimeter of the piece plus around any windows and doors.

Trace the outline twice with Royal Icing to double the height of your outline.

Next, color more royal icing with Wilton brand decorators color and add enough water ( or even better spoonfuls of egg white), a TBSP at a time, to the royal icing so that it will pour into your outline easily but not so thin that it will be too runny. Somewhere about the consistency of cold honey is good.

Leave this to dry at least overnight. A couple of days is better.

You are now ready to assemble your house.

An extra set of hands is very helpful, if not essential for larger houses, at this stage. A batch of very stiff Royal Icing is needed for "glue".

Using a #12 tip, pipe royal icing onto both edges to be joined and push them together. Run your finger along the inside corners to spread the icing tightly into the corners. This will greatly help the stability of the structure.

You can even pipe extra Royal icing into these inside corners to add extra "glue". This is very necessary in larger houses.

Continue until the outside walls (and internal supports, if any) are in place.

Let these pieces dry for several hours or overnight before attaching the roof sections in the same way.

It is not advisable to rush to get the roof on, the whole thing can collapse if the "glued" walls are not completely dry. You can use heavy tin cans wrapped in dish towels to hold up the walls as they dry together if you like for extra security.

Decorate your house as you see fit. Take cues for details such as corner boards and window casings, shutters and the like form actual houses. Take some photographs of heritage houses and use details from them.

If you like, you can landscape your house with Royal icing trees and shrubs which can be made using a star tip to pipe green royal icing onto aluminum foil covered conical forms. You can purchase these at any craft store.

These usually take a day or so to dry before you can remove the aluminum foil.

Good luck and Merry Christmas.
Yield:

24 cookies or more.
Detailed Instructions for Making a Lighted Gingerbread House
Ingredients
1/2 cup sugar
1/2 cup margarine
1/2 cup dark molasses
1/4 cup cold water
2 1/2 cups flour
3/4 tsp salt
1/2 tsp baking soda
2 tbsp powdered ginger
1 tsp cloves
1 tsp allspice
Instructions
Cream margarine and sugar well.
Blend in molasses and water.
Sift together remaining ingredients and blend together until dough forms.
Knead for a couple of minutes, adding a little more flour if it is too sticky.
Chill 2 to 3 hours. Depending on the size of your house you will need several batches of this dough. I have used as many as 20 in my largest houses.
Bake at 350 degrees, basically for as long as you can.
Larger pieces will take longer. You are trying to dry out the gingerbread as much as possible without burning it.
Nutrition Information
Yield
24
Serving Size
1
Amount Per Serving
Calories

119
Total Fat

4g
Saturated Fat

1g
Trans Fat

1g
Unsaturated Fat

3g
Cholesterol

0mg
Sodium

102mg
Carbohydrates

20g
Fiber

0g
Sugar

9g
Protein

1g
The nutritional information provided is automatically calculated by third party software and is meant as a guideline only. Exact accuracy is not guaranteed. For recipes where all ingredients may not be used entirely, such as those with coatings on meats, or with sauces or dressings for example, calorie & nutritional values per serving will likely be somewhat lower than indicated.